Did the Boston Celtics Make a Mistake by Trading Away Kemba Walker?
Published 06/18/2021, 2:34 PM EDT
---
---
As soon as the NBA off-season begins, fans and players also are always checking their phones for Woj bombs. So many were surprised when ESPN's Adrian Wojnarowski had a bomb this morning, as he tweeted about the Boston Celtics trading Kemba Walker.
ADVERTISEMENT
Article continues below this ad
Just two seasons after joining, the Celtics decided to trade away their All-Star point guard. He drew a lot of flak in the 2020-21 season, and fans were getting impatient with him. So the front office led by new GM Brad Stevens didn't wait for the postseason to end and made their move.
The Celtics sent Walker to the Thunder alongside a first-round pick from the upcoming draft and a 2025 second-round pick. In return, they received Al Horford, Moses Brown, and a 2023 second-round pick. So was this a good move, or will they end up regretting it?
ADVERTISEMENT
Article continues below this ad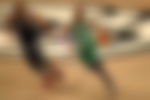 Celtics dump salary; create a $6.9 million exception
The major reason behind sending Walker to OKC was to use him as a salary dump. Walker would have have $36M salary in the 2021-22 season with a $37.6M player option in the next season. On the other hand, Horford will earn $27M in the 2021-22 season with a non-guaranteed portion in the next season.
This allowed the Celtics to be $7.9M under the luxury tax while creating a $6.9 million trade exception. This allows much financial flexibility for the Celtics who will be keen on using the exception to further bolster the roster. So from a financial perspective this trade was the right decision.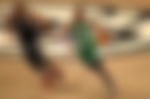 Celtics lose draft pick but get promising young talent
While many fans are upset over the 16th overall pick being traded, Moses Brown is easily better than any player available at that spot in the draft, at least in the short term. He has shown a lot of promise with OKC, including a 20-20 game he had against the Celtics ironically. He is only 21-years-old, which means he has a lot of time to prove himself.
Boston will not miss Kemba Walker
ADVERTISEMENT
Article continues below this ad
After being an All-Star in his first season at Boston, Walker didn't have the most impressive playoff performance in 2019-20. Things only got worse for him as he struggled in the 2020-21 regular season, and he struck rock bottom in the playoffs. As his form went spiralling down, it was always likely that he was going to get traded.
So the Celtics fans will not miss Walker. He had a few glimpses of promise as a third star but it looks like the Celtics are better off having their two youngsters Jaylen Brown and Jayson Tatum lead and build a strong lineup around them. So no, the Celtics did not make a mistake by trading away Kemba Walker.
WATCH THIS STORY – John Wall-Bradley Beal, LeBron James-Kyrie Irving & Other NBA Brotherhood Moments
ADVERTISEMENT
Article continues below this ad