Did Usain Bolt Purposely Lose a Race Out of Fear? Yohan Blake Reflects on Huge Career Victory
Published 11/10/2021, 12:15 PM EST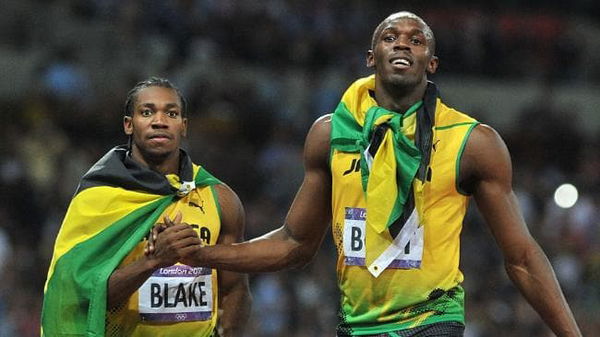 ---
---
The track and field is known for the heroics of the legend, Usain Bolt. Lightning Bolt is the fastest man in the world, with his record speed of 9.58 seconds still unbeaten.
Despite having retired years ago, Bolt still holds the records in the 100m and 200m races. The 8-time Olympic Gold Medalist is the GOAT of track and field. However, the only man who has come close to beating him was his teammate and rival, Yohan Blake.
In a recent interview, Blake talked about his 2011 victory over Bolt. He revealed that Usain Bolt is a legend and isn't afraid of anyone.
Usain Bolt isn't afraid of anyone, says Yohan Blake
During the 2011 World Championships, Usain Bolt was the athlete most looked forward to. He was the Jamaican rising star, grabbing medals around the world. However, it came as a shock when he was disqualified for making a false start.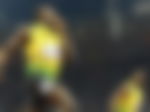 In his absence, it was 21-year-old Yohan Blake who took home the gold medal. This would prove to be a highlight in Blake's career because Usain Bolt was then considered unbeatable. Recently, Blake talked about his 2011 win over Bolt.
Blake was asked whether Usain Bolt lost deliberately because he was so afraid of him. However, he dismissed these rumors, saying that the "Lightning Bolt" was not scared of anyone at all.
"You know when you train with someone and they know what they can do and you see what they can do, I wouldn't say. You think he's afraid, he's afraid of no one, that's what I know for sure," said Blake.
ADVERTISEMENT
Article continues below this ad
ADVERTISEMENT
Article continues below this ad
Certainly, it was an honest mistake on Bolt's end because this was a race he was actually looking forward to after Beijing 2008, where he won both the 100m and the 200m races. Bolt even had the fastest time during the qualifiers; so it won't make sense for him to lose the race just because he was afraid of his rival.
ADVERTISEMENT
Article continues below this ad
"No one wants to give away a gold medal"- Yohan Blake
Moreover, Blake also said that having worked so hard, why would Bolt give away a medal so easily. Bolt knew it was the World Championships and he would be competing against the best in the world. He knew he would be pushed to the very core.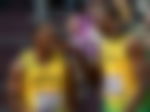 "But he knows that in his eyes and in his mind, I'm going to push him to the limit no matter what. I'm not saying he'd give me the risk that no one wants to give away a gold medal no one wants to give away the first place, yeah so I would say he's not afraid of no one probably in his mind he wants to go and get the record," added Blake.
Usain Bolt made a stunning comeback in London in 2012, winning 3 gold medals back-to-back. Even during the 2013 and the 2015 World Championships, Usain Bolt stunned the world with his performance.
Notably, the 2016 Rio Olympics were no surprise either. Proving his doubters wrong, he became the 1st athlete to win Gold in 3 Olympics consecutively, reminding everyone why is a legend.
ADVERTISEMENT
Article continues below this ad