Diego Schwartzman – "Nick Kyrgios Is Very Good For Tennis But…"
Published 04/04/2020, 5:33 AM EDT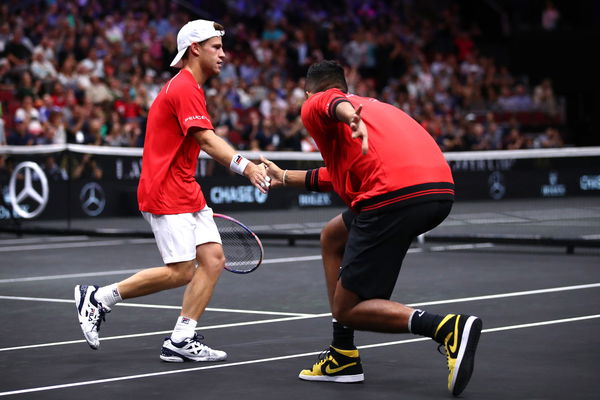 Argentine Diego Schwartzman has been one of the few players to challenge the 'Big 3'. Unfortunately, due to bad luck, he never went far in the grand slams. He is not that young anymore to be called the NextGen and he knows it. This is why he has named the players likely to be at the top of tennis.
According to him, Stefanos Tsitsipas, Alexander Zverev, and Dominic Thiem are the future of tennis. They have been the most successful players of the NextGen and are likely to dominate in the future. However, Diego did not stop there. He mentioned another player who could also be the future but is held back by his antics – Nick Kyrgios.
ADVERTISEMENT
Article continues below this ad
Diego Schwartzman On Nick Kyrgios
Diego Schwartzman said, "Kyrgios is very good for tennis when he is in the mood. But crosses the lines a lot of time."
This is not something that only Diego has noticed but something that all of us have. Nick Kyrgios has the potential to be one of the best players. This is evident in his undefeated record against Novak Djokovic. What is the problem then? The answer is his attitude.
Nick Kyrgios has got into so many controversies because of his attitude. At the 2019 Cincinnati Masters, he was fined $113,000 for his abusive rant at the umpire, spitting in his direction and smashing 2 racquets. This was just one of many controversies that Nick has gotten into.
ADVERTISEMENT
Article continues below this ad
I am sure a lot of us remember the above photo. This was taken at the Italian Open where Nick Kyrgios took it to the next level. In his anger, he ended up throwing a chair and in the process got himself several fines. Definitely not his best moment.
Nick Kyrgios has the potential to be a top player but he has to change his attitude. His run at the 2020 Australian Open showed signs of him changing. Players like Rafael Nadal complimented him on this change. Let's hope hecontinues to be like this.
ADVERTISEMENT
Article continues below this ad