Dinamo's Ademi handed four-year ban for doping – club
Published 11/21/2015, 1:50 AM EST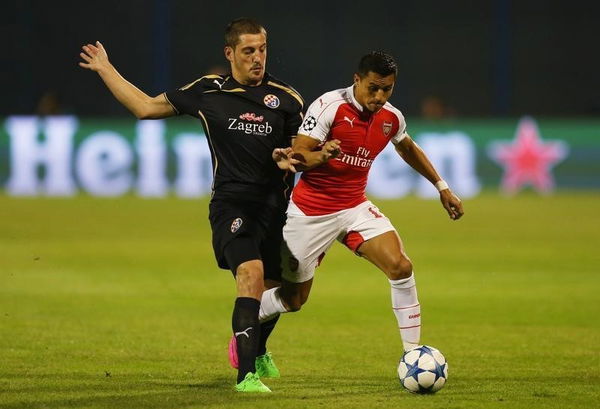 ---
---
ZAGREB (Reuters) – Dinamo Zagreb midfielder Arijan Ademi has been banned for four years after he failed a drug test following a Champions League match with Arsenal in September, the Croatian club said on Friday.
ADVERTISEMENT
Article continues below this ad
"The UEFA disciplinary committee made the harshest possible decision and suspended Ademi for four years," Dinamo said on their official website.
"We couldn't imagine this even in a worst-case scenario," it added.
ADVERTISEMENT
Article continues below this ad
"We will do everything we can to support Ademi in this tough period for our player, who will need to stay as strong off the pitch as he's always been on it."
Dinamo coach Zoran Mamic said the club was shocked and intended to appeal.
The 24-year old central midfielder, who has made three international appearances for Macedonia, failed the test after Dinamo's 2-1 home win over Arsenal in their Group F opener on Sept. 16.
The B sample also came back positive but Ademi nonetheless claimed he was innocent.
"I am at a loss of words to describe how terrible I feel," he said. "I am not guilty, I know that I did nothing wrong but still received a drastic punishment."
Mamic added: "To punish a player for four years after he and the experts proved that he took a contaminated supplement is senseless.
"Rules are rules and one must be careful what one consumes, but this is just too much because it's obvious he didn't know what he was doing.
"We will appeal to the Court of Sports Arbitration (CAS) or whoever is in charge but right now we are totally shocked."
Arsenal are at home to Dinamo in their next Champions League game on Tuesday, with the Premier League side needing a win to keep alive any hopes of progressing to the last 16.
Bayern Munich and Olympiakos Piraeus top the section with nine points from four games each, while Arsenal and Dinamo have three.
ADVERTISEMENT
Article continues below this ad
The Ademi ban was a second blow for Dinamo in quick succession after the club's chief executive Zdravko Mamic was arrested on Wednesday for player transfer irregularities.
Mamic and coach Zoran, his brother, were previously detained for questioning in July over embezzlement and tax evasion charges before being released.
Dinamo have won a record 17 Croatian league titles, including the last 10 in a row, while also clinching four in the former communist Yugoslavia.
ADVERTISEMENT
Article continues below this ad
They are second in Croatia's 10-team top division with 33 points from 17 games, a point behind leaders Rijeka who have a game in hand.
(Writing by Zoran Milosavljevic in Belgrade, editing by Alan Baldwin)