Disguised Toast Shares the Story of How He Met Valkyrae and Sykkuno
Published 03/18/2021, 1:45 PM EDT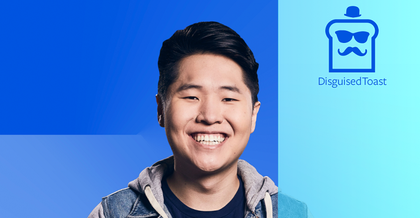 ---
---
The dream team of Among Us lobbies of Valkyrae, Disguised Toast, Sykkuno and others did not magically come together; it a lot of effort from one particular crucial content creator. Toast recently shed light on the infamous story surrounding the person who led to their fateful meeting.
ADVERTISEMENT
Article continues below this ad
He promptly responded to a fan's question with an anecdote of how everyone got together to give us the extremely entertaining Among Us lobbies that the fans have grown to love and adore in difficult times of the pandemic.
ADVERTISEMENT
Article continues below this ad
video source: OTV KEKW
Disguised Toast shared his thoughts about meeting
Toast gave a detailed breakdown of the meeting and also shared his thoughts about the person that made it all happen. It was Lilly who played a key role in Toast meeting the two famous streamers. He stated that it was quite a weird meeting, as the trio of Sykkuno, Lilly, and Rae did not really know each other.
Lilly was friends with Sykkuno, and Rae did not really know them both at the time. The streamer continued the story and shed light on Lilly's crucial role that aided them to establish a bond.
ADVERTISEMENT
Article continues below this ad
"She (Lilly) is like the front of our cartel. You know all the people she knows like she draws them in with her comfy like demeanor and she tells me 'You gotta give them a chance, No I really believe in them, you know some people really needs to be shown some kindness, she said this about a lot of people, Arya, Sykkuno, Wendy, and as my usual reaction is.
"This is the streaming world, sink or swim m******k and I am not throwing out life vests while she kept badgering that they're good people give them a chance."
It looks like Lilly's advice certainly helped Toast to look at the brighter side of things. He welcomed Valkyrae and Sykkuno and many others with open arms, which lead to some amazing moments not just in Among Us but their streams in general.
ADVERTISEMENT
Article continues below this ad