'Don't Think He Should Look at it as a Disservice': Shaquille O'Neal Has a Message for Zion Williamson and Their Evergreen Comparison
Published 04/22/2021, 6:30 AM EDT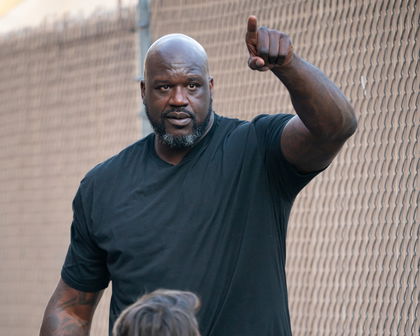 ---
---
Zion Williamson is hardly two seasons old and is still the closest someone has come to touching the legacy of Shaquille O'Neal. He is becoming a do-it-all guy on the court, producing big numbers each night, whether the Pelicans win or lose. 
ADVERTISEMENT
Article continues below this ad
When Zion entered the league, his comparisons to Shaq were mostly dependent on his humongous size. However, with his consistency in the scoring, especially in 2020-21, new comparable parameters are featuring on the scale. So should Zion feel overwhelmed about this whole narrative?
Shaquille O'Neal sent a clear message to Zion Williamson
ADVERTISEMENT
Article continues below this ad
In a recent interview, the four-time NBA Champion rejected the claim that the comparisons can make Zion Williamson feel bad. The NBA Hall of Famer expressed:
"It's a wouldn't say it's a dishonor. But it's that, when you get compared to the greats, people see something in you. Now, I was taught that being great is about being super consistent. Whenever I had two or three bad games in a row, I would get the call from the board, 'hey man, what you're doing? Great guys don't do this, Kareem never had to be like.' So, it should be out. He's putting up good numbers, he's playing hard, he's playing well. I don't think he should look at it as a disservice… He can possibly be better." 
Comparing the two from the data point of view, Zion has played just 77 games in his career so far. That is still fewer than the many Shaquille O'Neal played in his rookie season alone. However, after making the comeback from his knee troubles, Zion is averaging close to 27 points at 61.7% from the field. Now, it had taken Shaq 12 seasons to average 60+ FG% in 2005 (with the Heat). So Zion is definitely making an early case for a future legendary status. 
Read also – Former NBA Champion Shuts Down Comparisons Between Zion Williamson and Shaquille O'Neal
When Shaq had his own idol to chase as a young athlete
ADVERTISEMENT
Article continues below this ad
In the same interview, the Big Shamrock hinted at Zion that it was good to have someone to chase. He detailed his own example and said, "I was going after one guy, Wilt Chamberlain, I wanted to break all his records. I beat him in championships, I wanted to beat him in points… So I was going to arrogantly say, I'm Shaquille O'Neal, I'm the most dominant player ever."
Shaq entered the league almost two decades after Wilt's retirement. Interestingly, he won double the number of NBA titles that The Bug Dipper won. However, as fate would have it, he landed right below Wilt's 31,419 career points and retired at the figure of 28,596.
Now, if Zion makes it his dream to win more championships than Shaq did, he will not just beat the big man, but also draw further comparisons with other legends. 
ADVERTISEMENT
Article continues below this ad
Do you think Zion will ever be able to match Shaq's records?