"Doesn't Matter": Tennis Star Frustrated with Chair Umpire Over Controversial Call at ATP Finals 2021
Published 11/16/2021, 6:30 AM EST

Follow Us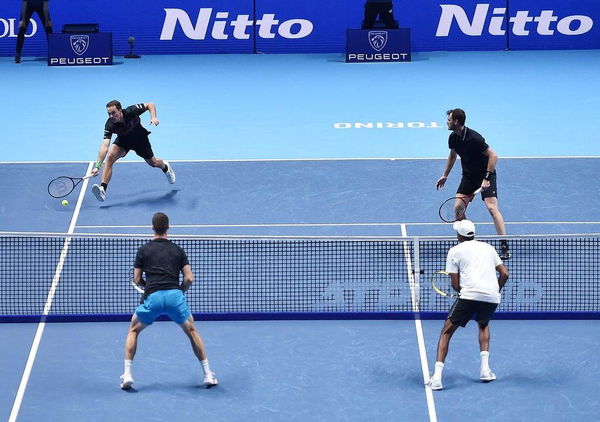 The doubles team of Joe Salisbury and Rajeev Ram defeated the seventh-seeded team of Jamie Murray and Bruno Soares 6-1, 7-6 (5) in their opening Red Group match at the 2021 ATP Finals. With the victory, the British-American duo recorded their 100th win as a team.
However, the match brought the controversial hindrance rule into question. In the last game before the second-set tiebreaker, Murray yelled 'come on' after hitting a forehand at the same time a reaching Salisbury made contact with the ball.
ADVERTISEMENT
Article continues below this ad
'Hindrance rule' comes into question at ATP Finals 2021
Although the ball touched Salisbury's racquet frame and went outside the court, Ram and he argued that Murray should have been given a hindrance penalty since the point was in play.
But the chair umpire, Aurelie Tourte, felt Murray's celebration didn't affect Salisbury's ability to hit the ball and hence ruled out the hindrance penalty.
As a result, an argument broke out between the chair umpire and the team of Salisbury-Ram, with the pair visibly frustated over the umpire's decision.
ADVERTISEMENT
Article continues below this ad
"This is where I have to make a judgment," explained Tourte. Generally, the hindrance call is a tricky one. It mostly ends up being the umpire's call and therefore, it is hard to get each player's agreement.
According to the ITF law book, a tennis player can claim hindrance if he/she is hindered or obstructed in a deliberate way by the opponent, or unintentionally by the opponent or someone or something else.
Interestingly, those who watched the episode, got reminded of an argument between Aurelie Tourte and Daniil Medvedev three months ago at the Toronto Masters, when the umpire gave a hindrance penalty to the Russian for saying "sorry" to his opponent mid-rally.
ADVERTISEMENT
Article continues below this ad
Meanwhile, the team of Salisbury-Ram improved their head-to-head record to 3-0 against Murray and Soares. Up next, The British-American duo faces the French team of Nicolas Mahut and Pierre-Hugues Herbert in their second group stage match.