Dominic Thiem Calls Roger Federer a 'Superstar' as He Turns Back Time
Published 09/15/2020, 8:57 AM EDT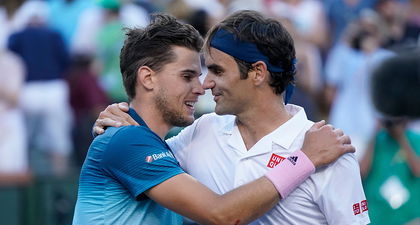 ---
---
Dominic Thiem just a few days back made a phenomenal comeback to win the 2020 US Open. He recently answered a few questions pertaining to Roger Federer and spoke about the 20-time Grand Slam champion.
ADVERTISEMENT
Article continues below this ad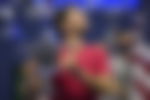 In a QnA, Dominic Thiem revealed how it felt meeting and training with Roger Federer for the first time. 
ADVERTISEMENT
Article continues below this ad
"When I was a 16-year-old junior I was allowed to practice with him for the first time at the Aorangi Park at Wimbledon. At the beginning I was super nervous, I hardly hit a ball over the net. After some minutes I settled in. Never ever had I thought I would ever beat Roger one day," Thiem recalled.
Dominic Thiem on playing against 'Superstar' Roger Federer
The Austrian also revealed the reason why Federer features at the top of his list of favorite athletes. Thiem said: "Because he is an exceptional person. He represents the idea of superstar!" 
Thiem also recalled his first victory against Federer. And also commented on the fan following the former World No.1 receives around the world.
"It was in Rome in 2016. Although it clearly needs to be stated that he was far from being physically fit in that round of 16. He had obvious back issues. However, it was a special day for me! The most outstanding win was in the final of Indian Wells. His stardom around the world is tremendous, even more so in the US. The people like him everywhere!"
ADVERTISEMENT
Article continues below this ad
This QnA is part of the first chapter in a series called '946 Questions 946 Answers on Dominic Thiem's official website. The first chapter is about his competitors. The series also includes questions on various other topics like countries, culinary, etc.
We have time and again seen a lot of young players talk about Federer's persona on and off the court. The Swiss master commands a huge fan base and respect all around the world which is overwhelming for young players like Thiem.
ADVERTISEMENT
Article continues below this ad