Dominic Thiem Reveals Australian Open 2021 Courts Are 'Very Fast and a Bit More Slippery'
Published 02/07/2021, 7:30 AM EST
---
---
The conditions at Australian Open 2021 differ from last year because of a lot of factors. And as players have played on the courts of Melbourne Park in the pre-events, they see a few changes. World No.3 Dominic Thiem feels the court is faster and more slippery than last year.
ADVERTISEMENT
Article continues below this ad
In his post-match press conference, Thiem discussed the court surface. He revealed that the general consensus between the players is that the court is considerably faster than last year.
"Everybody I talk to is saying that the surface is very fast, way faster than last year."
ADVERTISEMENT
Article continues below this ad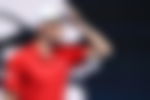 Dominic Thiem reveals that the courts at Australian Open 2021 have been resurfaced
The factor of why the courts are faster can be attributed to the resurfacing of the court. The courts in Melbourne Park were resurfaced this year, and that is why it is fast and even slippery according to Thiem.
"And I also have the feeling that it's that way I think they resurfaced this, so it's a new surface again but way faster than last year a little bit more slippery as well so probably it's better for some other players than last year," Thiem said.
The Australian Open 2021 is being held under the scorching Australian February sun. The temperature at Melbourne Park will be over 40 degrees celsius and players will get dehydrated and tired very fast.
ADVERTISEMENT
Article continues below this ad
The conditions are much warmer than during the usual Aussie Open, and so the ball bounce will be higher and faster. This especially will play in the hands of Dominic Thiem. Over the past few years, Thiem has reinvented his game and adapted to fast hard courts.
Thiem is now a prominent hard court player with his fast stroke play. His forehand uses the high bounce very well and skids off the surface faster. The one prominent player who suffers under warm and faster conditions is Rafael Nadal. And with Nadal under tremendous stress because of a lower back injury, it will be a tough Grand Slam for the Spaniard.
With Nadal struggling, Thiem effectively is the only challenger to Novak Djokovic. Let's see if he cracks the Djokovic puzzle at the Australian Open.
ADVERTISEMENT
Article continues below this ad