The tennis season is muddled up like never before due to the health crisis around the globe. Perhaps the most peculiar aspect is two Grand Slams in the space of just five weeks. Dominic Thiem, though, will not even consider missing one of them according to his father Wolfgang.
As the tennis events started to fall one after the other, panic ensued among the organizers. The tightly packed year meant that most events had little space to maneuver and reschedule. Amidst all the chaos, the French Open organizers held their cards close to their chest.
When the time was right, they jumped at it and announced the new dates of the clay Major. It was to be held a week after the US Open concluded, in September. As you may know, this caused quite an uproar in the tennis community.
It wasn't just the bare minimum time players would get between the two Majors, but the vastly different surfaces that troubled most. Can the players cope with such a change within a week's time?
Sadly, the times are such that the players are just going to have to try; there's no two ways about it. Not surprisingly, some players are contemplating giving one of the Slams a miss to concentrate on the other.
It makes sense for some to opt for the Major that is played on their strong surface.
Dominic Thiem will play both Majors
Dominic Thiem, for one, is not going to choose. He will play both the Grand Slams, at least according to his father Wolfgang. That hardly comes as a surprise; Thiem has truly taken his spot among the creme de la creme of tennis. The Austrian has already proven to be a force on clay, but by the end of last season, he took his hard-court game to a whole another level too.
A class display at the ATP Tour Finals was followed by a run to the final at Australian Open, where he came mighty close to edging out Novak Djokovic.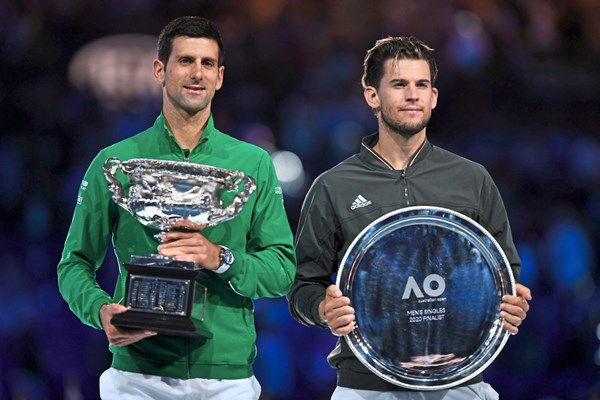 After such exploits, Thiem wouldn't even entertain missing out on a Grand Slam. What's more, he is at the peak of his physical prowess at 26 years of age. If he cannot cope with the demands of two Majors in five weeks, nobody can.
He has twice lost in the final of the Roland Garros, both times to the King himself. This year, Rafael Nadal will have to defend his two Major titles in a space of five weeks, which will absolutely delight Thiem.
I do not see Nadal simply giving up his defense of the US Open. and if I'm right, Dominic will be waiting and hoping to finally outdo his biggest obstacle at the French Open.
It promises to be an interesting latter half of the tennis Tour. Let's just hope the COVID-19 disease is subdued by then and we get to watch some long-awaited tennis.