Doom Game Director Answers the Question "What Next?"
Published 03/28/2021, 2:33 PM EDT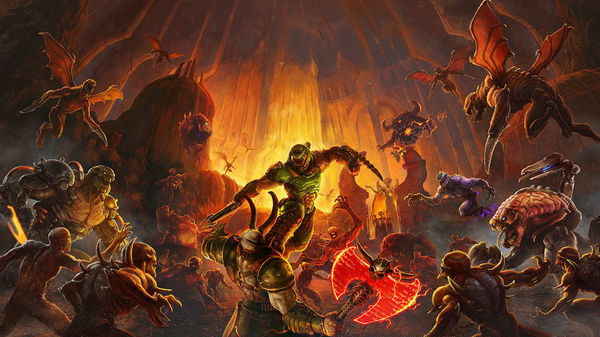 ---
---
Doom is as iconic a game as it gets. This is a franchise that old-school gamers, as well as the current generation of gamers, can associate with thanks to the 2016 reboot. The ongoing series of the franchise is about to come to an end with the upcoming Ancient Gods- Part Two DLC. However, according to the game director Hugo Martin, this is not the end of the Doom universe, as there are apparently more stories to tell featuring the Doom Slayer.
ADVERTISEMENT
Article continues below this ad
In a recent interview with Polygon, Martin talked about what is next for the iconic FPS franchise. The franchise has come a long way since the first title released back in 1993. Moving forward, we had the more horror-driven installment, Doom 3, leading up to the 2016 reboot. Last year saw the release of the final installment in the current series, followed by two DLCs.
Further reading: PewDiePie Reacts to His Hilarious Dumb Mistakes From His Minecraft Streams
ADVERTISEMENT
Article continues below this ad
The Doom universe still has plenty of elements to build on
In the interview with Polygon, Martin said,
"While this is the end of the story arc that began in Doom (2016), we planted a lot of stakes in the ground with that story… And we've been able to flesh out a lot of those things throughout the course of [Doom Eternal] and to do two DLCs. So that story arc will end, you know, from the time you woke up in the sarcophagus to the end of the DLC, but there are more stories to tell with the Doom Slayer, for sure."
One reason why this franchise can keep going on is the fact that the protagonist is technically immortal. However, the real challenge is to keep the franchise relevant and fresh in order to create a mass appeal.
"I think as you play the DLC, too, you'll see lots of hints of what we could do moving forward. Maybe even in the future. Again, our hero is somewhat timeless — I mean, literally, he's immortal. So we could tell all kinds of stories."
The biggest challenge perhaps is to keep the franchise alive and relevant
Doom is violent, gory, and aggressive. As a result, although very popular, these titles catered specifically to a niche community. Moreover, the problem also lies in creating an amalgamation of the old-school elements from the original and incorporating new ones for the new generation.
Marty Stratton, the executive producer of Doom Eternal, explains how they managed to do this:
"Those conversations were hours, days, you know, where we would debate what is Doom, what isn't Doom, what feels like Doom, and what doesn't feel like Doom? It kind of feels almost silly now to think back about some of those things.
ADVERTISEMENT
Article continues below this ad
"Because it was such an intense time of, like, we're trying to reinvent something that has been out of the spotlight for a long time but does mean so much to so many people. So those conversations were very long."
Martin weighs in:
"There's an aspect of Doom that it looks like it was conceived with a ballpoint pen in 1985 on the back of someone's notebook in math class… I mean, there is this juvenile quality to everything in Doom… to make it all fit, I do think that tone is critical."
ADVERTISEMENT
Article continues below this ad
Looks like one of the most violent video game franchises is set for new titles in the near future.