'Tall, Frail, and Old'- CouRage Challenges Dr Disrespect to a Fight in the Octagon Following Stipe Miocic vs Francis Ngannou at UFC 260
Published 03/28/2021, 7:49 AM EDT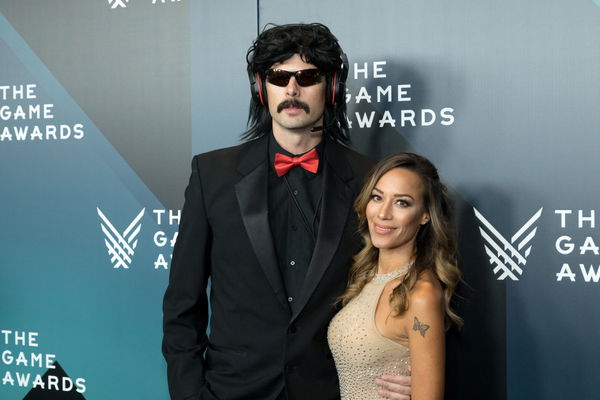 ---
---
The conclusion of UFC 260 has got some people talking in the gaming community. The usual fans include CouRageJD, TimTheTatman, and Dr Disrespect, who often have opinions after fights. However, their recent comments weren't about Stipe Miocic or Francis Ngannou.
ADVERTISEMENT
Article continues below this ad
The trio of MMA fans was in high spirits following the Stipe Miocic vs Francis Ngannou fight at UFC 260. CouRage sent out a tweet to the 'Two Time', challenging him to a fight in the octagon. Moreover, not only does the 100 Thieves content creator think that he can fight Doc, but he believes he can whoop his 'a**'.
Dr Disrespect is 6 foot 8 with a 37-inch vertical leap. No matter how heavy Jack's build is, taking Doc down won't be an easy task. However, CouRage believes he has the edge over the Call of Duty veteran given Doc's age.
ADVERTISEMENT
Article continues below this ad
I could whoop Dr. DisRespect's ass in the Octagon…

Guy is tall, frail, and old.

— Jack "CouRage" Dunlop (@CouRageJD) March 28, 2021
TimTheTatman sides with Dr Disrespect in the fight against CouRage
CouRage shocked his fellow streamer and close friend TimTheTatman with his proposal. While Doc and Tim often engage in friendly hostility on Twitter, the latter knows Doc is not a man to mess with. Tim thought Jack had to be drunk to challenge Dr Disrespect to a fight.
yeah you've had to many vodka sodas

— timthetatman👑 (@timthetatman) March 28, 2021
Jack, on the other hand, was extremely serious, and it is not the first time he has called Doc out for a fight. He surely wasn't drunk as he did not miss the opportunity to plug a partner beverage in his tweet while also calling out the YouTube streamer. The fight has been in the air for a long time now, and if this happens, it would probably be the most exciting event in the streaming industry in a long time.
The world awaits Doc's reply
The ball is in Dr Disrespect's court now, and all the fans await a reply from him. A friendly fight between the two wouldn't hurt anyone. If there were to be a fight, it seems like fans would be largely behind Doc looking at the responses from the community.
While fans await a fight in the UFC octagon, Cloakzy had a brilliant idea. Given both Doc and CouRage are gamers, a head-to-head in Halo 3's octagon would make perfect sense. Interestingly, CouRage thinks he would also have the edge over Dr Disrespect in the Halo octagon.
ADVERTISEMENT
Article continues below this ad
Well…that too.

But in real life as well.

— Jack "CouRage" Dunlop (@CouRageJD) March 28, 2021
Who would you side with if the Two Time goes up against the 100 Thieves content creator?
ADVERTISEMENT
Article continues below this ad
ALSO READ: Dr Disrespect Still Awaits His Twitch Unban Following Ryan Higa's Comedy of Errors