Dr Disrespect Has A Hilarious Message For Shroud After Twitch Announcement
Published 08/12/2020, 6:15 AM EDT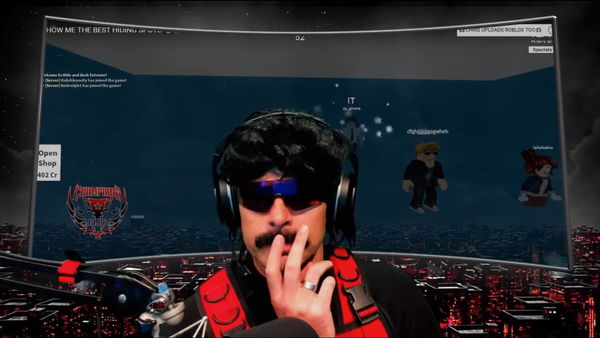 The news everyone was waiting for is finally here. Shroud has made up his mind and is coming back to Twitch. His announcement was loud and clear as he said 'I'm coming home'. The streaming community was extremely happy with this news and welcomed Shroud with open arms. Even Dr Disrespect congratulated him but in the most 'Doc' was possible.
ADVERTISEMENT
Article continues below this ad
Doc posted a clip of himself in response to Shroud's announcement on Twitter. In the clip, he impersonates Shroud and sings the Song 'Alleyways'.  Here's how to conversation goes:
Shroud (Doc impersonating him): How did I do doctor?
ADVERTISEMENT
Article continues below this ad
Doc: You did good, Shroud!
Shroud: You're f****** lying to me! You're still jealous.
Doc: I'm not jealous, Shroud
Shroud: Yes, you are. I haven't had to do s*** except send 3 GIFs on Twitter and I'm already making millions. What have you done?
Doc: I mean we're tryna do a lot of stuff here, Shroud.
This is obviously just playful banter and just a typical Dr Disrespect way of conveying a message. Doc recently made his switch to YouTube but still had no exclusive deal. This message probably comes in such a form because Shroud is moving back to Twitch and Doc still doesn't know why he was banned from that platform.
Dr Disrespect on the Shroud situation
But Doc has been waiting for him to make a comeback. Shroud is one of the biggest streamers and Doc knows it too. Before Shroud made this announcement, Doc even said this in one of his earlier streams.
ADVERTISEMENT
Article continues below this ad
"Shroud, where's Shroud, what the hell is going on with Shroud? Can anybody tell me? What are his little GIFs? I hope that he's going pro. That's the only thing I could speculate. I hope he's going pro. It looks like there's some hints on Valorant, I don't know, I've seen some of the speculation around these GIFs. GIFs, GIFs, f*****, I don't know"
Well, we have our answer now. 'Shroudy Rowdy' is moving back to Twitch and a lot of the fans are going to be really happy. He is still the 3 most followed streamer there even though he hasn't streamed on the platform in over a year. This is a huge advantage for him as he can just pick up where he left off. He even announced that his first stream is going to be at 11AM PST.
ADVERTISEMENT
Article continues below this ad
He may even have some announcements coming our way considering the rumors suggest that he is going pro again. Tune in to his stream to find out more.