Dr Disrespect Speaks about how Electronic Arts can Revamp Battle Royale Genre
Published 09/06/2020, 2:41 PM EDT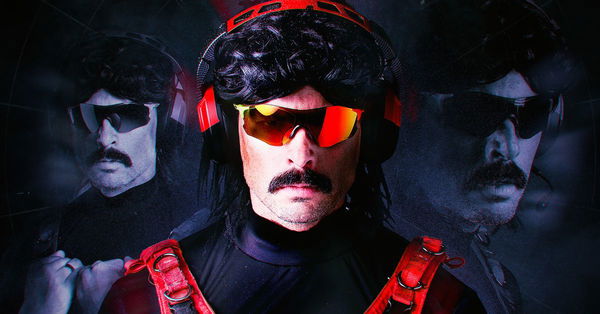 ---
---
It has been a while since one of the most-watched personalities in the gaming community and a live streaming platform had a fallout. After the fiasco with Twitch, Dr Disrespect took over YouTube with his brand of violence, speed, and momentum. He has proven that he can still pull in the numbers consistently.
ADVERTISEMENT
Article continues below this ad
By tuning in to his live broadcasts, one can understand why Doc is the best entertainer in online gaming. The man isn't just a ruthless competitor but also an adept performer. Since his Twitch ban, Dr Disrespect has been unable to team up with his mates TSM Viss, Nickmercs, or TimTheTatMan. This has surprisingly opened more avenues for the Two-Time.
Apart from dominating in Call of Duty: Warzone, Doc has also tried his hand at other games recently. YouTube sensation, PewDiePie, and Doc had a stand-off on Fall Guys: Ultimate Knockout. Doc also came up with a map design for Rogue Company and collaborated with one of India's rising streamers, Sc0ut.
ADVERTISEMENT
Article continues below this ad
More recently, Dr Disrespect teamed up with ZLaner from Facebook Gaming in Vikkstar's $10 million Warzone tournament. During the broadcast, before jumping into the tourney, Doc was asked if he had seen Spellbreak, a new battle royale. He mentioned that he didn't necessarily care about the gameplay but asked if it was fun to watch on stream.
Doc then expressed how he thought Electronic Arts "put a lot of their eggs in one basket with the whole Apex Legends". Given all the studios and immense talent that are involved with EA, he said that the gaming company could make a killer battle royale.
Read: Dr Disrespect Approves New Call of Duty Warzone Update
ADVERTISEMENT
Article continues below this ad
Dr Disrespect explains how EA can craft the next blockbuster streaming game
Doc has stated that he believes it is fundamental in game development to analyze whether it's fun to watch someone else play the game. He said, "They've [EA] got this Frostbite Engine. I think they could just do something. I think they can make a killer battle royale, man. They just need a particular vision behind it, a direction."
Doc further said, "I think the one thing a lot these developers don't focus on, and I would focus on immediately is 'Hey, let's get a working prototype going'. The thing I would be analyzing just from the prototype standpoint, is it fun to sit back and watch someone else play it and test the game out. Is it interesting? Is it easy to follow? Can I understand everything? Does it make me feel like I'm part of a narrative right from the get, you know? Because I think that's just extremely valuable these days, man."
ADVERTISEMENT
Article continues below this ad
Doc clarified that not every game should be developed from that standpoint. However, he felt that the enjoyment one can feel while watching somebody else play a video game was an underlooked aspect. "I'm not saying every video game should be developed in that sense, but I think there could be a next big huge blockbuster streaming game. Because right now, what do we have? We have old school Warzone, and we have Fall Guys," the Two-Time concluded.
Beneath one of the most revered personas in gaming lies a sharp mind that knows a lot about the gaming industry. It will be interesting to see if such a blockbuster game comes out in the future.
Trending Stories