Dr. Disrespect Twitch Ban: Nadeshot, Lachlan, and CouRage Share Their Thoughts
Published 06/30/2020, 9:31 AM EDT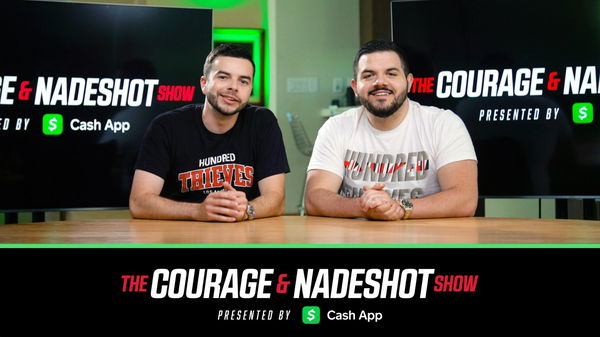 ---
---
Last week was a really topsy-turvy week for the gaming community all around the world. If the news of Mixer shutting down didn't shock you, the news of Dr. Disrespect receiving a permanent Twitch ban surely must-have.
ADVERTISEMENT
Article continues below this ad
Dr. Disrespect is one of the biggest gaming creators/entertainers out there. He had around 4.39 million followers on Twitch where he grew his community from the ground up. But, him receiving a permanent ban without a particular reason left every baffled. He even tweeted saying,
Champions Club,

Twitch has not notified me on the specific reason behind their decision… Firm handshakes to all for the support during this difficult time.

-Dr Disrespect

— Dr Disrespect (@drdisrespect) June 28, 2020
ADVERTISEMENT
Article continues below this ad
Surprisingly, this is not the first time Twitch has banned Doc. Back in 2019, he was removed from E3 and banned from Twitch after he live-streamed from the bathroom. The difference is back then, he clearly violated Twitch's Privacy Rules and this time, there is no indication as to what exactly happened. Most people are arguing that it is a DMCA issue but Rod Breslau says something else
Sources: it is not DMCA

— Rod "4475 SR & Immortal peak" Breslau (@Slasher) June 26, 2020
Twitch has done this before where they have banned someone permanently but never gave a specific reason publicly or even privately. Breslau even tweeted saying "food for thought: Twitch does not issue specific reasons to streamers for permanent bans. MethodJosh was banned following a report of sexual assault and Twitch has never commented publicly or privately. Josh & Ice Poseidon were told 'Other TOS violations.'
Nadeshot, Lachlan, and CouRage's discussion on Dr. Disrespect being banned
Doc hasn't been accused of any kind of major misconduct and this is what it opens up a point of discussion. Streamers Nadeshot, Lachlan, and CouRage had a short discussion about the same.
Courage reveals how popular streamer Shanon revealed that Doc was 'indeed done' and 'this is serious' but the tweet has now been deleted.
ADVERTISEMENT
Article continues below this ad
Nadeshot mentions that there have to be some legal implications here given that Twitch had signed Dr. Disrespect in an exclusivity deal worth millions. He also says that Doc is a global icon and even if you haven't followed gaming, you would still know of him.
CouRage mentions that he has been on Jimmy Kimmel, The NBA finals and that it is sad seeing something like this happen to someone he considers to be a friend. He also admits that this has blown up so much because Doc of the biggest creators out there.
To conclude, Nadeshot says that he has known Doc for quite some time now and he hopes things get better for him soon.
ADVERTISEMENT
Article continues below this ad
Another takeaway from this discussion is the part where all of them agree they can't say anything for certain unless we have official statements. Unless Twitch or Dr. Disrespect reveal what exactly happened, all the discussion and speculation is pointless. We'll just have to wait and see what happens
Trending Stories