Dr Disrespect's Arena Will Soon Become a Reality in Rogue Company
Published 09/18/2020, 6:40 AM EDT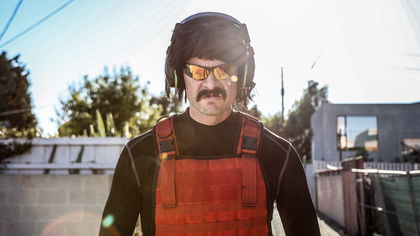 ---
---
Dr Disrespect has been doing great since he moved to YouTube. His Twitch ban definitely had an effect on him, but it looks like he's getting back to normal. Since his return, he has focused on building his brand by doing a lot of different things which he probably wouldn't have done earlier. Recently, he had taken up the task to design his own map for the popular game 'Rogue Company'. Now, it looks like it is going to become a reality very soon.
ADVERTISEMENT
Article continues below this ad
Dr Disrespect took to Twitter to share two new photos from the upcoming 'Arena' map for Rogue Company.
ADVERTISEMENT
Article continues below this ad
Rogue Company's official account also quoted his tweet and replied, "Plenty of seating available in the Arena! This is only the beginning…"
Dr Disrespect also shared a 3D render for the Arena for Rogue Company
All this began when Doc had just started playing Rogue Company and himself offered to design a map for them. The developers obviously accepted and gave him a window of 24 hours to come up with a map layout. Doc then channeled his inner 'Violence, Speed, Momentum' and put up a layout of the Arena on Twitter.
The developers acknowledged Doc's ability to design maps and provided him all the resources he needed to make it a reality. Soon, Doc shared a 3D render of the level that will finally be refined to become the Arena.
No one does it better Doc, this map is already looking like the peak of the mountain and we aren't even halfway done. You wrote the book on Violence, Speed, and Momentum and The Arena brings it.

Consider your application received. Give us a few days to get @ScottGandhi on board!

— Rogue Company (@RogueCompany) August 17, 2020
ADVERTISEMENT
Article continues below this ad
Now that Doc has shared images from the final version of the map, it will soon be available in the game. Those who doubted Doc's ability probably didn't know that he has a lot of experience in designing maps. Doc was a level-designer at Sledgehammer games and designed various multiplayer maps for Call of Duty: Advanced Warfare. So there is absolutely no question about his credentials.
Dr Disrespect has also been working on his Call of Duty Warzone skills by participating in Vikkstar's Warzone Tournament. He has managed to have a few good games but has also struggled at the same time. Hopefully, he'll be able to channel his 'Violence, Speed, Momentum' and get back to winning ways soon enough.
ADVERTISEMENT
Article continues below this ad
Doc's collaboration with Rogue Company is definitely ground-breaking for growing his brand. It'll be interesting to see what future projects he takes up to ensure his brand continues to grow, globally.