Dramatic Late Goal Hands Liverpool the Win over Everton
Published 12/02/2018, 1:49 PM EST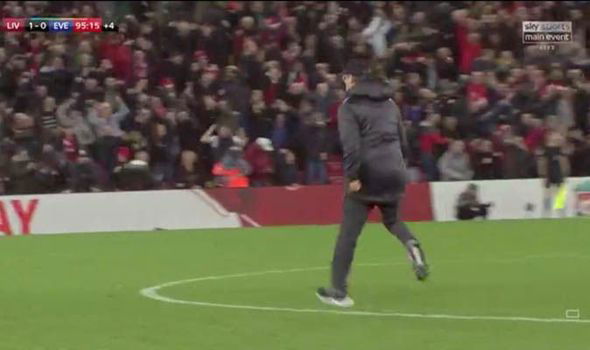 Belgian player Divock Origi came off the bench to fire in a bizarre late winner for Liverpool. It was the Merseyside derby against Everton and neither side was giving a quarter. The final score was 1-0 in the Reds' favour.
ADVERTISEMENT
Article continues below this ad
Both teams had their moments, with Everton missing several great chances in the first half. Meanwhile, Liverpool nearly fell short after the break.
Origi was subbed on for Roberto Firmino in the final minutes. He then became the hero of the day for the home crowd deep in injury time.
ADVERTISEMENT
Article continues below this ad
With this dramatic win, it leaves Liverpool trailing Manchester City by just two points.
Liverpool's danger trio of Mohamed Salah, Firmino and Sadio Mane fell short yet again this season. It is slowly is becoming a major issue in key fixtures and something that Jurgen Klopp needs to rectify.
After a slow start, Salah has begun to rediscover his form in recent weeks. But it is interesting to note that nearly all of his goals have come against the minnows of the Premier League and Champions League. He failed to find the target against Paris Saint-Germain and now against Everton. Klopp eventually subbed him off after 77 minutes of game time.
Firmino's scoring form has also been an issue all season long. Meanwhile, Senegal's Mane is going through an awful stretch, with no goals since October. He had several big misses on Sunday:
He has picked a terrible time to go cold, with the busy holiday season on the horizon. Manchester City don't look like they'll suffer a slump anytime soon―they haven't dropped points in the league since the match against the Reds in October―and they seem to find goals from everywhere.
Their depth is a major weapon. Origi may have come through on Sunday, heading home in the final seconds, but it was only his first goal of the season. He and Daniel Sturridge are solid options, but not nearly as talented as City's bench pieces, which include Gabriel Jesus and Riyad Mahrez.
In a title race as close as this one fine margins make all the difference. Liverpool's front three might be their biggest weapon, but due to the current lack of form and the limited depth, it will fail them in the title race.
ADVERTISEMENT
Article continues below this ad
There were few complaints when Liverpool spent big to land Alisson Becker during the summer given the keeper's obvious talent and the club's need in the position. Loris Karius had only just cost the Reds dearly in the Champions League final, and the new man was coming off a fine season with AS Roma.
The Brazilian was solid in his first months with the club, but Sunday's derby marked the first time he truly justified his £67 million transfer fee―something he admitted to struggling with last month.
His massive save from Gomes in the first half stood out in particular:
ADVERTISEMENT
Article continues below this ad
It was a great stop but also a key momentum-changer, as the Toffees were on top at that point in the match. The Reds were in real trouble, but Alisson pulled off the kind of save associated with his price tag.