Drivers Rally in Support of Sebastian Vettel After a Penalty Robs a Win
Published 06/10/2019, 7:26 AM CDT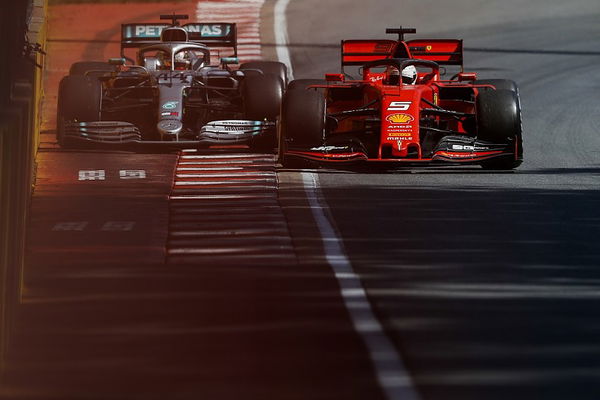 ---
---
During the Canadian Grand Prix on Sunday, a struggling Sebastian Vettel ran wide and nearly put Lewis Hamilton in the wall. As a result, the FIA put their foot down and slapped him with a five second time penalty. Naturally, the driver was furious at getting robbed, of a surefire win, as Hamilton was too close to Vettel to remain first.
ADVERTISEMENT
Article continues below this ad
The German driver bemoaned the opportunity to be the one to break the Mercedes winning streak. Physically, he did break the streak when he crossed the finish line first, though from a technical standpoint, the Silver Arrows kept their streak.
When the penalty took effect, not just Sebastian Vettel and Ferrari, but several other racers, current and former, were against it. Former teammate, Daniel Ricciardo said, "If he pulls a little further to the left, he'll spin. When he brakes on the grass, he'll spin too. There was not much room for Lewis but still enough.I had an identical situation with Lewis in 2016 Monte Carlo. He had to go through the emergency exit and almost pushed me into the wall on his return. With me it was tighter than now with him. He didn't get a penalty. That was a good thing. It was a hard racing."
ADVERTISEMENT
Article continues below this ad
In all honesty, Sebastian Vettel was pretty much out of control when he slithered into the grass. So, when he rejoined, the lack of grip would definitely make itself known, Lewis Hamilton was simply in the wrong place at the wrong time.
Others commented on Twitter about the decision:
I think the function of the stewards is to penalize flagrantly unsafe moves not honest mistakes as result of hard racing. What happened at #CanadaGp is not acceptable at this level of our great sport. @F1

— Mario Andretti (@MarioAndretti) June 9, 2019
Thanks for all your votes. My personal view is that he could have left more room, but we lost a great final few laps because of the penalty. There was enough doubt to let them carry on. Remember Dijon! #f1 #Dijon

— Damon Hill (@HillF1) June 9, 2019
Any of the stewards ever raced at the front in F1? Didn't watch the race.. have now seen the "incident".
Mental penalty. 🥴🧐

— Mark Webber (@AussieGrit) June 9, 2019
my observation on Vettel rejoining: his helmet moved to look into mirror only after steering correction! that he slid that far is laws of physics. No space for Lewis is name of game with street tracks. What happened to #LetThemRace ? Was it sketchy? yes! a penalty? not in my view

— alex wurz (@alex_wurz) June 9, 2019
ADVERTISEMENT
Article continues below this ad
Not really sure what VET could have done differently when rejoining….with the momentum he had he was always going to end up where he did….tough decision for VET. https://t.co/PVAFnPFdFm

— Allan McNish (@allanmcnish) June 9, 2019
ADVERTISEMENT
Article continues below this ad