Drogba returns, Chelsea rejoices!
Published 07/25/2014, 1:43 PM EDT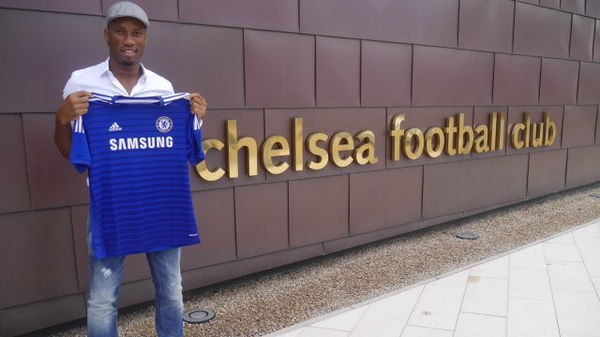 ---
---
Chelsea have made another signing, which in itself is news for any football fan. But this is not just any other signing, this is Didier Drogba. Yes, the King of The Bridge has returned to the Premier League. If your blood runs blue, time to jump in joy, for Didier Drogba re-joins Chelsea on a one year contract! Even better, on a free transfer after the maestro's contract with the Turkish club Galatasary expired this summer. Even otherwise, Premier League fans rejoice, for Drogba definitely belongs with the EPL.
In Drogba's own words, "It was an easy decision – I couldn't turn down the opportunity to work with José (Mourinho) again. Everyone knows the special relationship I have with this club and it has always felt like home to me. My desire to win is still the same and I look forward to the opportunity to help this team. I am excited for this next chapter of my career."
Drogba, 36, initially moved to Stamford Bridge in 2004 and scored 157 goals in 342 appearances for the club before departing in 2012, after pushing Chelsea to their first taste of Champions League glory. What with Chelsea picking up Diego Costa from Atletico Madrid and the return of Romelu Lukaku from Everton, the arrival of Drogba might signal the departure of Frenando Torres, who has been far below par for the club since his signing from Liverpool. Mourinho, who was vocal about his frustration with his strikers last season, might just have pulled off the masterstroke that he needed.
What remains to be seen, however, is whether a 36 year old returning "home" in the tail end of his career will still have the same impact on the game that he once had in his glory days. Will this be the proverbial second coming, or will it just be a flash to be replaced by a managerial contract?
Whatever happens, it's good to have you back, Didier Drogba. Welcome back to the English Premier League. Welcome back home.