Drones Steal The Show At A Spectacular Tokyo Olympics Closing Ceremony
Published 08/08/2021, 2:08 PM EDT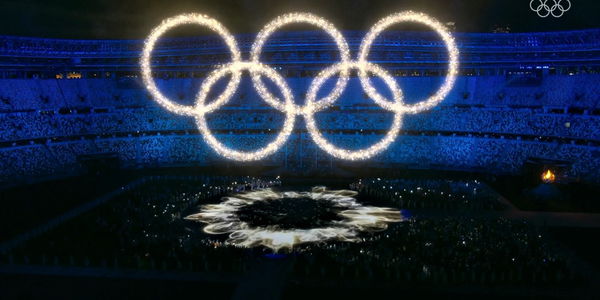 ---
---
The Summer Olympics closing ceremony celebrations in Tokyo, has left everyone spell-bound. We've witnessed three weeks of thorough entertainment, but the games have finally completed their last chapter. The silver lining of the show was definitely the magical works of the drones!
ADVERTISEMENT
Article continues below this ad
The meaning behind the light show by drones
One of the most exciting elements of the opening ceremony was the coming together of over 1,800 drones. Forming the shape of planet earth, the stunning light show, was indeed a sight to behold. However, the closing ceremony was even more picturesque. The special effects of the drones made the evening even more special and heartwarming.
ADVERTISEMENT
Article continues below this ad
The theme of the light show was "Moving Forward". The gorgeous amalgamation of rays of lights, revolving around and representing various colours of flags all over the world, wowed everyone. Amidst the darkness, the rising of individual lights symbolised the spirits, passion, dedication and hard work of all the athletes who made this event special.
The organisers thus said, "Together, these lights rise to form a luminous wave — representing the Olympic spirit that lives within us all. As these lights take flight across the stadium, we remember the many people whose contribution made the Olympics possible, both near and far, as well as those who could not be here today".
The organizers claimed that the "large, round fireworks form a ring of rainbow bridges that symbolize a united world."
The artists behind the show at Tokyo Olympics
Apparently, the light show was designed beautifully and presented by a company based in Montreal, which is called Moment Factory.
Moment Factory is a multimedia studio that specialises in lighting, video, architecture, sound and special effects for immersive environments.
Where will the next drone light show happen?
The official account of the organizers of the Olympics Tweeted dropped a piece of very significant information regarding the venue of the next Olympics.
ADVERTISEMENT
Article continues below this ad
LED-equipped drones came together to show the flag of France, and 4 Olympic rings along with "Paris 2024" glowed. The combination of the three individual symbols–the gold medal, the flame, and Marianne was the most perfect way of representing the essence of the French Republic.
ADVERTISEMENT
Article continues below this ad
The Olympics have ended, but it has left all of us with a wholesome feeling.