A drought ended for Zimbabwe Cricket
Published 09/01/2014, 9:07 AM EDT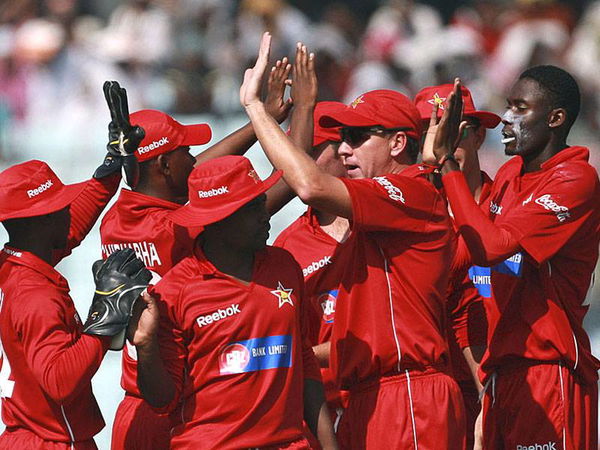 ---
---
Yesterday was a special day not only for Zimbabwe Cricket but also for the people of Zimbabwe who finally got a chance to smile and rejoice, when their heroes defeated the mighty Aussies, thus ending 31 year drought. The captain Elton Chigumbura kept his nerves calm and changed 11,406 days of history after the spinners did a commendable job by restricting Australia to their lowest ever total against Zimbabwe. This win was surely on the cards after they put themselves in a dominant position and capitalized on the advantages that they got.
ADVERTISEMENT
Article continues below this ad
A lot had been spoken about them when they were crushed brutally by Australia in the 1 one day by 198 runs. Questions were raised, "Why this tri-series was being played in Zimbabwe as it was clearly a series between two formidable teams Australia and South Africa. As said no one is immortal and Zimbabwe showed Aussies that they too are not an exception. They played their hearts out to register their 2 win against them in 31 meetings.
A 55 run stand between Chigumbura and Prosper Utseya ensured that Zimbabwe would not crumble as they had been doing in their previous attempts. Utseya played the major role as he made 30 off 28 deliveries after which the party began in the stadium. The atmosphere was electrifying and Mexican waves were seen all around the stadium, though only a few spectators were left in the stadium after Zimbabwe was 156-7 in response to Australia's less than modest 209.
ADVERTISEMENT
Article continues below this ad
The smile could clearly be seen on Utseya's face after he hit Starc for a six at deep midwicket. Chigumbura mentioned that his role was to support Utseya and his only words to him after the six were "well done". That was indeed a brave shot from a player who is not known for his sixes. Stephen Mangongo, Zimbabwe's coach said that he had nothing to prove to anybody. We have to remain on the ground as our next meeting is against World's No 2 team, he added.
This win would surely make men like Chigumbura and Utseya heroes and on the other hand teach Australia some bitter lessons.
ADVERTISEMENT
Article continues below this ad
ADVERTISEMENT
Article continues below this ad