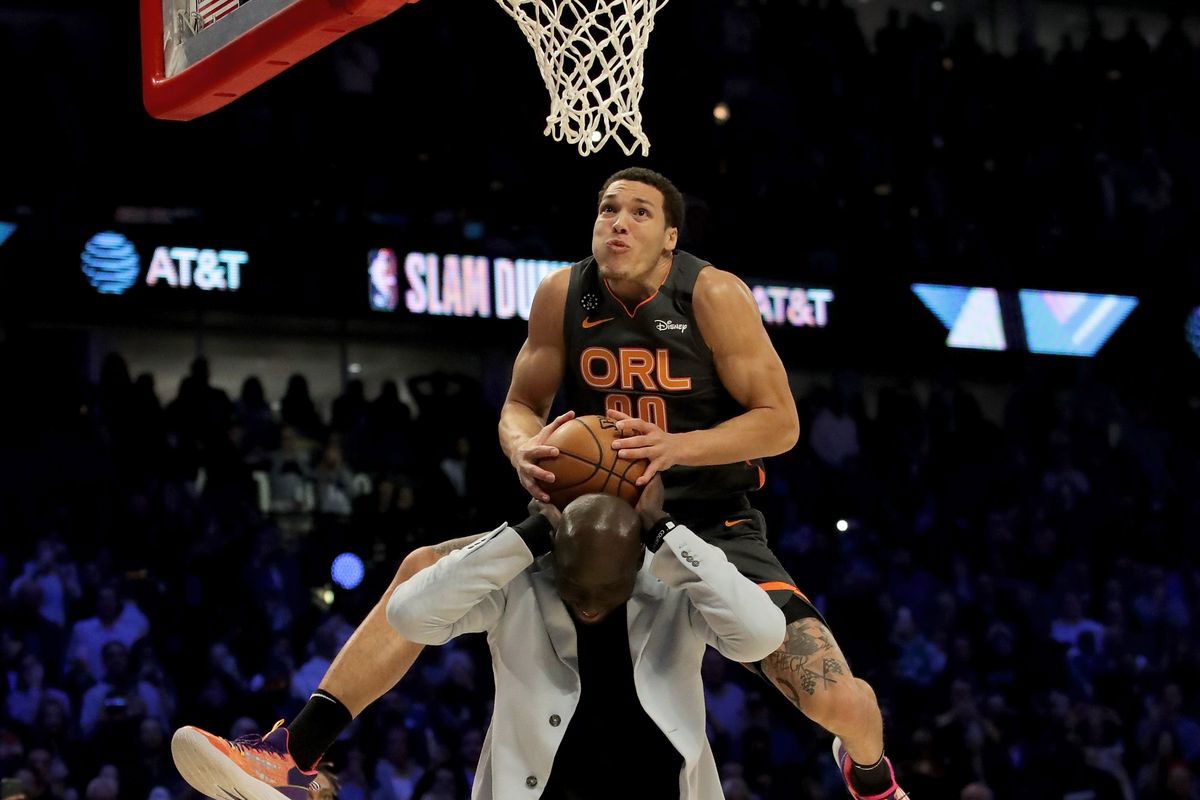 Aaron Gordon losing the 2020 NBA All-Star dunk contest left many in disbelief. Fans and players took to social media to extend their support to Gordon.
Immediately after the loss, ESPN's Ramona Shelborne had reported immediately after the contest that the judges believed it should have been a tie.
"We thought it was going to be tied. We were like, 'This is a tie!'" she quoted one of the judges as saying. "But somebody didn't do it right. I don't know who it is."
Out of the five judges, three of them gave a 9 out of 10 for Gordon's last dunk. Former Miami Heat player Dwayne Wade was among them. After the results had come out, a few people claimed that Wade went in favour of his former team's player Derrick Jones Jr. A few tweets on twitter were directed towards Wade robbing Gordon of a win.
Dwyane Wade after making Aaron Gordon lose and letting a Miami Heat player win pic.twitter.com/dxnPlHOOoV

— Cryptic (@CrypticNoOne) February 16, 2020
Dwyane Wade when he realizes he can rob Aaron Gordon and give the #DunkContest to a Heat player pic.twitter.com/deo7yW1wwP

— Dar-Wei Chen (@chendw) February 16, 2020
"Aaron Gordon is not going to lose any sleep about not winning that dunk contest. He's one of our better NBA players, one of the young stars in this league," Wade said following the competition. "I mean, it took nine rounds, it wasn't biased. It got to the point where I wasn't the only one that gave a nine. Let's talk about that. It was three people that gave a nine (on Gordon's final dunk)."
Wade directs an Instagram post towards people claiming him to be against Gordon
Wade had a similar response on Instagram directed towards people claiming him to have robbed Gordon of winning the dunk contest.
He posted a short video of himself on Instagram with a caption: "Me reading through my comments like I was the only judge to give out a 9".
A theory on why Dwayne Wade is the one to have robbed Aaron Gordon a win
Looking only at Wade's comments, they might seem explanatory of why it is not right to point him at the wrong end. However, the initial reports from ESPN's Ramona Shelborne that quoted one of the judges saying they had planned it to be a tie, Wade's comments would not seem as straightforward.
A video obtained from a person named Rob Perez on Twitter had a detailed theory on why he thought Wade was the culprit.
Wobvestigation: Who broke the dunk contest judging pact? pic.twitter.com/NIWDJlnMFa

— Rob Perez (@WorldWideWob) February 16, 2020