E3 2021 Gearbox Showcase: From Tiny Tina's Wonderland to the New Borderlands Movie, Here's All the Exciting Stuff Set to Arrive Soon
Published 06/12/2021, 6:16 PM EDT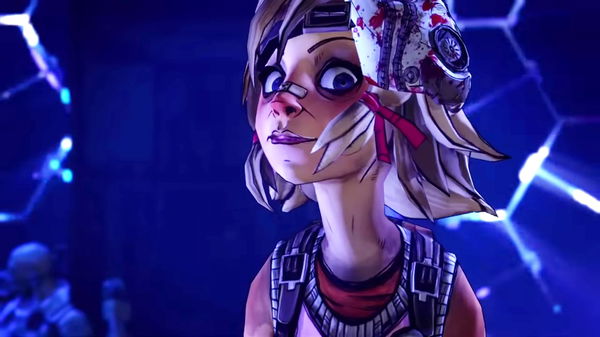 Following the explosive end of the Ubisoft Forward press conference at E3 2021, fans were excited about the next major event of the evening in the Gearbox Showcase. The American developer had already showcased a lot during the Summer Games Fest about titles like Tiny Tina's Wonderlands. In E3 2021, fans also got to know a lot more about their other future projects like Tribes of Midgards and updates to existing ones.
ADVERTISEMENT
Article continues below this ad
Other than that, the conference also showed some behind-the-scenes footage of the upcoming Borderlands movie. Plus, fans also received an enormous surprise in the production of a new Homeworld game.
ADVERTISEMENT
Article continues below this ad
Gearbox Showcase reveals new information about Tribes of Midgard, Tiny Tina's Wonderland and more
Following an epic Summer Games Fest announcement, fans received more information about Tiny Tina's Wonderland. The game is a fantasy take on the iconic Borderlands character and fans can expect to have a lot of fun playing it. It will feature popular Hollywood celebrities like Will Arnett, Andy Samberg and Wanda Sykes. It will have a lot of Wyverns and players can fight them when Tiny Tina's Wonderland releases in early 2022.
Along with that, developers Norsefell also talked about their 10 player co-op Action RPG title, Tribes of Midgard. In it, players play as Viking who have to protect the village from creatures that spawn from hell. The game releases on July 27, on PlayStation 5, PlayStation 4 and Steam.
Godfall set to arrive on PS4 and PS5 with new expansion, Fire and Darkness
ADVERTISEMENT
Article continues below this ad
Along with that, Gearbox also revealed the addition of Godfall in the PS4 games library. The popular Action RPG title developed by Counterplay Games will release on August 10 with a new expansion called Fire and Darkness. Additionally, fans will receive a free upgrade to an enhanced version for the PlayStation 5.
The conference also included a behind-the-scenes look at the production of the upcoming Borderlands movie. The footage showcased Randy Pitchford, the founder of Gearbox talking to director Eli Roth about the movie's filming. Plus, he also talked to Kevin Hart, who plays Roland in it. The Borderlands film also features Cate Blanchett as Lilith, Ariana Greenblatt as Tiny Tina, Florian Munteanu as Krieg and many more.
ADVERTISEMENT
Article continues below this ad
Finally, the company also confirmed the production of the third installment of Homeworld, the classic Real-Time Strategy game developed by Blackbird Entertainment. In the end, the conference didn't have any massive surprises like the Ubisoft Forward event. But fans should be happy with all the revelations made by Gearbox.
WATCH THIS STORY: Best MMORPG Titles Coming to PlayStation, Xbox and PC in 2021