E3 2021 Ubisoft Forward: Twitter Reacts to the Epic First Look of Avatar: Frontiers of Pandora Releasing in 2022
Published 06/12/2021, 5:11 PM EDT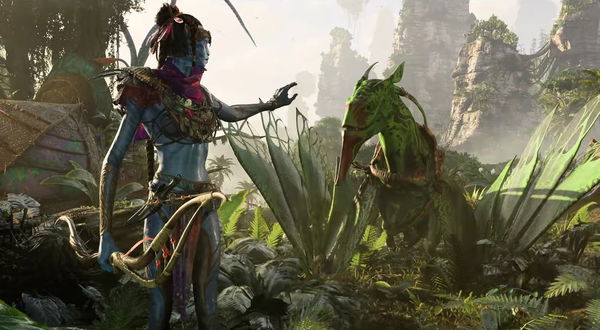 ---
---
The E3 2021 Ubisoft Forward has already showcased a lot of cool stuff set to releasing soon. The French developers showcased new titles like Riders Republic and Rainbow Six Extraction, along with updates to many of their existing games. But their biggest surprise came in the end when fans received a World Premiere of Avatar: Frontiers of Pandora.
The game is set in the world created by James Cameron for his 2009 blockbuster hit, Avatar. It's a standalone story, and it's not part of the movie franchise's storyline with sequels arriving soon. Fans will play as a Na'Vi in the visually beautiful world of Pandora which will have some mind-blowing creatures and environments. Following the release of the trailer, fans thronged to Twitter to talk about this epic surprise.
Twitter Reacts to Ubisoft Forward showcasing Avatar: Frontiers of Pandora
The Ubisoft Forward press conference shocked everyone when it released the first look of Avatar: Frontiers of Pandora. With four movie sequels planned to release this decade, it seems like the perfect time for Ubisoft to release a game about it. Following the release of the trailer, a lot of fans were excited about playing as a Na'Vi in the beautiful world of Pandora. This included Twitch streamer HasanAbi who was quite fascinated by these 'blue aliens.'
Other than that, many fans were excited about the prospects of playing this game on the next-generation consoles. With such gorgeous visuals, it will be interesting to see how the game will play on the PlayStation 5 and the Xbox Series X. It also remains to be seen how the game will use the many hardware features of these consoles including the controllers.
Along with that, many of them were also excited about playing the game involving one of most revered movie franchises of all time. But many of them felt that the developers were a bit too late at developing a title on a movie that released 12 years ago. Even then it looks like with sequels set to arrive soon, now is the perfect time for Ubisoft to release a game revolving around the Na'Vi and Pandora.
Additionally, the new game also brought back a lot of memories of fans regarding Ubisoft's first attempt at an Avatar video game. The company released a prequel game titled James Cameron's Avatar The Game which also released in 2009. It never gained the massive commercial success of the movie, and many fans believe that the upcoming title will be much better than it.
Twitter unhappy about developers working on the wrong Avatar franchise
Many players were happy about a video game about the James Cameron franchise. But some of them were also disappointed to know that Ubisoft wasn't developing a title around The Last Airbender. Additionally, players voiced their disappointment at the French company for not creating a world around characters like Aang and many more.
It seems like players won't get an opportunity to bend air, water or fire soon. But they can roam around Pandora with some unique characters next year when Avatar: Frontiers of Pandora releases. In the end, fans can't wait to see some gameplay footage of it, and get excited about this 2022 title.
WATCH THIS STORY: Best MMORPG Titles Coming to PlayStation, Xbox and PC in 2021