Eagles GM Reveals Expectations from Jalen Hurts This Season
Published 05/07/2021, 11:29 AM EDT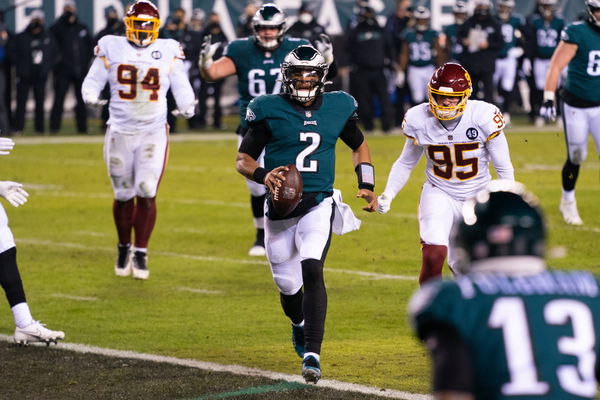 ---
---
Jalen Hurts will get his big chance this season. The Philadelphia Eagles quarterback will be the starting quarterback for them when the new season kicks off.
ADVERTISEMENT
Article continues below this ad
Hurts garnered praise last season with his performances as a deputy for the struggling Carson Wentz. With Wentz gone, the Eagles have gone all-in on Hurts. But what does the franchise expect from him this season? Eagles GM offered fans some insight on the same.
Philadelphia Eagles GM and EVP Howie Roseman spoke to NFL Radio about Jalen Hurts and the upcoming NFL season. He believes that while Hurts has been really good, it isn't possible to make a complete assessment of him just yet.
ADVERTISEMENT
Article continues below this ad
Hurts only played a few games last season and barely started four. So there isn't much of a body of work yet that can allow someone to make a full judgment of Hurts.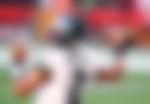 "You're judging him off of 4 NFL starts in tough situations with all the injuries that we had. We want to see him grab the job and kind of run with it, and see what he'll do over a period of time.
"I remember you told me a long time ago that the best body of work, the more you can see a player play, the more you make decisions on them." 
Jalen Hurts is still unproven in the NFL
Roseman added that oftentimes, teams have to take a risk with young players, and extend their contract without an existing body of work to justify that faith.
He believes that Jalen Hurts is also in that situation, where the team is trying to gather as much data and information from his limited game time last season.
If they put the right tools and weapons around him next season, that would put him in the best position to succeed. "I remember we talked about this, even extending players early versus getting the full body of work.
ADVERTISEMENT
Article continues below this ad
"I think that applies to Jalen, we want to be in a situation where we get as much information as possible, give him the best opportunity, build that offense and give him the right weapons, put him in a system that really maximizes his ability, and then build from there."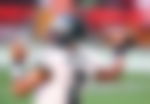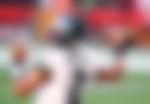 ADVERTISEMENT
Article continues below this ad
Can Jalen Hurts take the next big leap this season? He will have a good chance this year as the starting quarterback. Furthermore, the Eagles got him a big weapon for the next season in the form of Heisman Trophy winner DeVonta Smith.