Earn Rewards With Call of Duty Twitch Drop Event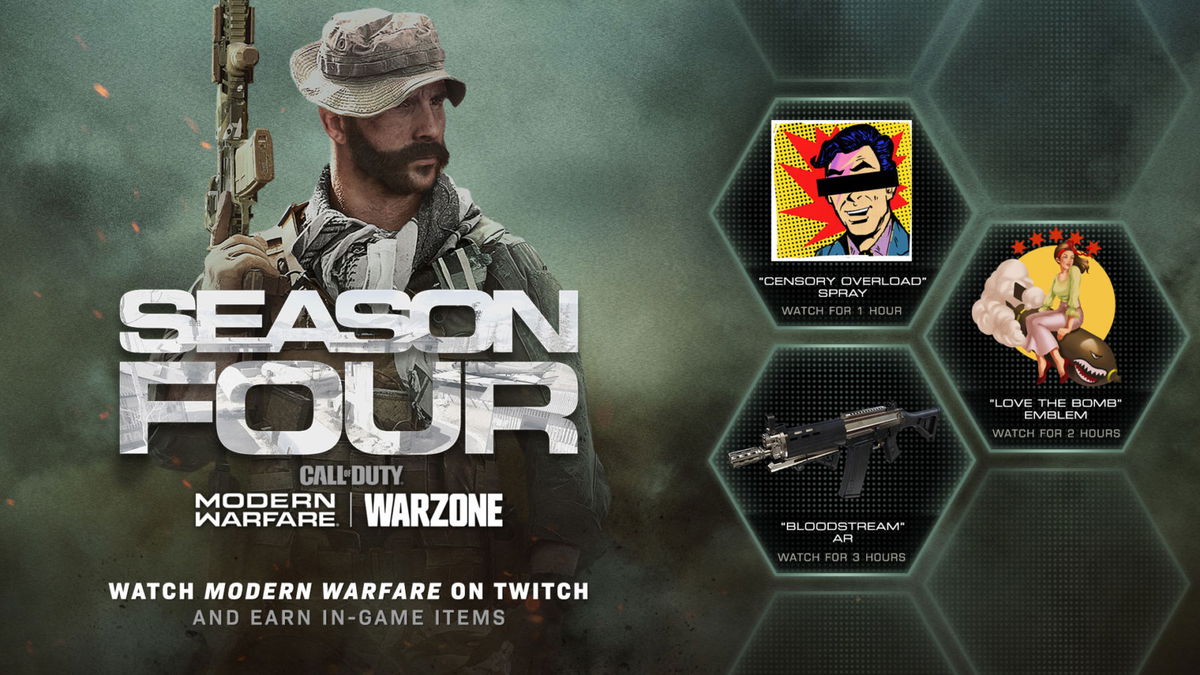 blog.activision.com
Call of Duty Season 4 has already brought loads of new elements to the table. Starting from new operators and plenty of updates. And now, fans have a chance to win free items from the Call of Duty Modern Warfare and Warzone Twitch drops event. Although, you will have to hurry since the event is about to end today.
All you have to do is watch specific Twitch streamers for at least an hour and you will be eligible for drops. Does not sound bad when in return all you have to do is watch a stream, right?
Further reading: Call of Duty Pro Benches Himself Ahead Of Next Event
What to expect from the Twitch drops
Of course, the contents of the drops will vary with the duration that you are watching it for. The official Activision blog gives a list of items to expect from the Twitch drop. If you have watched the stream for one hour, you can expect to get the 'Censory Overload' spray item. If you watch it for two hours, you can expect to get 'Love the Bomb' emblem.
For watching the stream for three hours, you get the blueprint for 'Bloodstream' assault rifle. Now, this is something you should really be aiming for. A variant of the powerful Grau 5.56, Bloodstream features a tactical laser sight that guarantees stability. Along with this, Bloodstream comes with the 'Sleight of Hand' perk that lets you reload your weapons faster. Not a bad grab, eh?
Further reading: Call of Duty: Playlist Updates For The Week is Live
Link your Call of Duty accounts with Twitch to avail this
Here is what you have to do in order to be eligible for the MW and Warzone Twitch drop event. Firstly, make sure you have a verified Call of Duty account and that you're logged in. Next, you have to link this account with your Twitch account.
If you don't have a Twitch account, you make one right
here
. Now click on your CoD account name and select "Linked Accounts" from the drop-down menu. Choose "Link with Twitch account" and enter the details of the Twitch account. That's it! Now your CoD and Twitch accounts are linked.
Now here's a bit of bad news. According to a tweet by
@ModernWarzone
, a twitter handle with news and leaks about MW and Warzone, many players have been unable to link their CoD and Twitch accounts.
Call of Duty official Twitter handle posted a tweet yesterday saying that they have been working on it. We hope that the issue would have been fixed by now.
We're currently working on a fix for an issue preventing users from connecting their Twitch and Activision accounts.

— Call of Duty (@CallofDuty) July 14, 2020
If it's indeed working, just go tune in to the respective CoD MW and Warzone streams that have the "drops enabled" callout. Well, now go grab 'em all!