"If we are educated only then we can apply ourselves well on the mat as well"-Sakshi Malik
Published 01/14/2017, 4:18 AM EST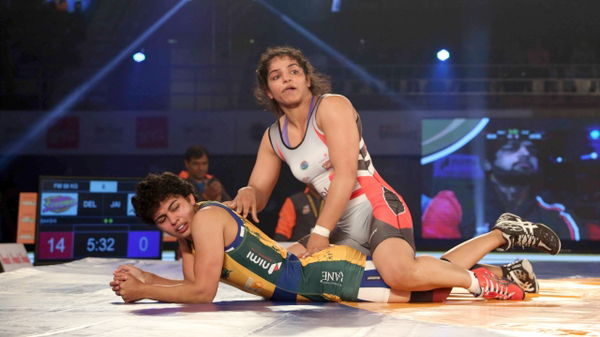 ---
---
ADVERTISEMENT
Article continues below this ad
"If we are educated only then we can apply ourselves well on the mat as well"
-Sakshi Malik
EssentiallySports had the privilege of attending the on going Pro Wrestling League and had the honor of interviewing the 2016 Olympics Bronze Medalist, Sakshi Malik who in doing so, became the first female wrestler from India to win an Olympic medal. Currently, she's leading the team of Delhi Sultans at the ongoing Pro Wrestling League.
ADVERTISEMENT
Article continues below this ad
Excerpts from the interview:
Question: Ma'am, what really brought you to wrestling? Was it your own choice? Or was it something your parents wanted you to pursue?
Answer: It was my own choice. My parents have always been supportive of my decisions. Earlier in my childhood I was shown many games and wrestling caught my eye. Further, my grandfather had pursued mitti ki pehalwani, the traditional Indian wrestling. I have always wanted to be a sportsperson and do well in the game. I knew wrestling will give me that space and here we are today.
Question: Your mother is doubly proud about your wrestling as well as educational background. Already having ensured you completed bachelors and masters, she now wants you to do a PhD. How have you dealt with this pressure?
Answer: See, education goes hand in hand with sports. Certainly, the pressure was very high in school. Scheduled practices in the morning and evening gave very little scope for homework. But I persisted and was able to get admission at Maharshi Dayanand University. The pressure eased out in college and slowly I was able to adjust well.
To us knowledge is extremely important. If we are educated only then we can apply ourselves well on the mat as well. That's why I have continued my education and plan to continue with it in the future as well.
Question:  We all know you were battling a second chance in the repechage round. You were down by 5 points. And you came from behind to win the match by 8 points. It is one thing to have faith in yourself. But to emerge triumphant from this position is truly phenomenal. Please explain your emotions during those final moments?
Answer: Honestly this has been a 12-year long journey. I had promised my brother that my medal would be his rakhi. So, having come this far I knew I couldn't give up. I had 9 seconds with me and I had faith in myself to turn it around.  At this point in time, when the entire country's expectations were pinned on me, I geared myself to give my 100%.
Wrestling, as you all know now, can change course in a matter of seconds. I kept going and persistently pushed myself to not give up. Fortunately, it worked out well for me and I won the bout convincingly.
Question: You are a guiding force in the country. Prime Minister Modiji proclaimed you the 'daughter of India'. What advice and motivation do you have for the youth in our country?
ADVERTISEMENT
Article continues below this ad
Answer: I love wrestling. I have always had interest in sports. But that doesn't mean I ask everyone to join wrestling. It is all about finding what you love and pursuing it with full dedication. Whatever it is, you really have to be passionate about your work and your skill. The satisfaction that you gain after tasting success in your own field is like none other. So, go ahead and pick up whatever interests you and give your best every day.
Question: At EssentiallySports it is our aim to ameliorate the sports awareness in the country. How can we get a better idea about your future plans, training and preparation?
Answer: We practice round the year. Unlike other sports where you'll find athletes getting a rest period, we aren't permitted any such liberty. Preparations are on in full rhythm for the Tokyo 2020 Olympics and I wish to extend my performance. It's not just another gold medal that we desire but also more number of medals from wrestling. Participation in PWL 2 is a major component of our preparation.
ADVERTISEMENT
Article continues below this ad
Regarding charting our journey and training, you may go to various traditional training camps in Haryana. You'll find wrestlers more than willing to answer all your questions.
We would like to thank Delhi Sultans for providing us with this opportunity and Sakshi Malik for sparing a few minutes of her time for this interview. We hope you find success in each and every of your endeavour and that you keeping making our country proud.