Elite Dangerous' Odyssey Expansion is Set to Come to PC in May
Published 04/22/2021, 3:27 PM EDT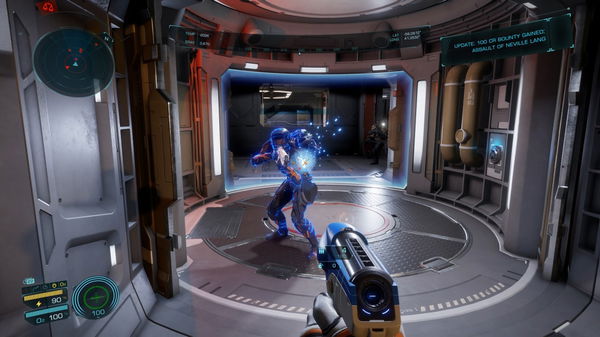 ---
---
Elite Dangerous, the iconic flight sim game, just received its most exciting expansion ever! The developing studio, Frontier, was happy to announce that the iconic space adventure title is about to get a first-person aspect. From its inception back in 1984, with the first title 'Elite', the franchise has sure come a long way. And given what we are looking forward to this year, it looks like 2021 might be the most exciting year for this 37-year old iconic franchise.
ADVERTISEMENT
Article continues below this ad
For those who do not know, Elite Dangerous is one of the most interesting space exploration titles out there. Players take on the role of piloting a spaceship and can explore a 1:1 scale accurate representation of the Milky Way Galaxy. It is one of the most accurate space flight simulations available right now.
Furthermore, it is the first title in the series which has massively multiplayer open-ended gameplay. In addition to this, the actions of the players affect the underlying storyline of the game.
ADVERTISEMENT
Article continues below this ad
The much-awaited Odyssey Expansion of the title is about to hit the PC version of the game next month. It is about to give this title an interesting turn of events!
Further reading: Genshin Impact 1.5 Update: Yanfei's Nature, Elemental Skill and Elemental Burst Revealed
The Elite Dangerous Odyssey Expansion will have on-foot space exploration and more!
Players will now get to leave their spaceship and embark on on-foot adventures! They can now have more gameplay options and a complete space exploration experience. This opens the door to a new world of possibilities. The Odyssey expansion pack took advantage of the new on-foot gameplay and has introduced opportunities for combat-based missions:
"Experience intense first-person combat, kit out your character with an array of weapons and gear, and coordinate with teammates to master a multi-layered, deep, tactical environment where Commanders, SRVs, and Starships converge."
ADVERTISEMENT
Article continues below this ad
However, if players do not feel like engaging in fights, they can embark on quests with the aim of exploration. It is as the official description says:
"Take on a wide variety of contracts and play your way, from diplomacy and commerce to lethal stealth and all-out combat. Diverse settings, objectives, and NPCs offer endless mission variety and a near-infinite amount of content to enjoy."
Furthermore, the title practically lets players carve their own journey and story. Players can find out what they are best at, and walk down that path!
ADVERTISEMENT
Article continues below this ad
Although the PC version of the expansion is about to hit the game next month, the paid Alpha version is currently available until the 30th of this month. However, the Xbox and PlayStation versions of the expansion are tentatively set to release later this year.