Els hoping to take a firm grip on the yips
Published 01/09/2016, 9:27 AM EST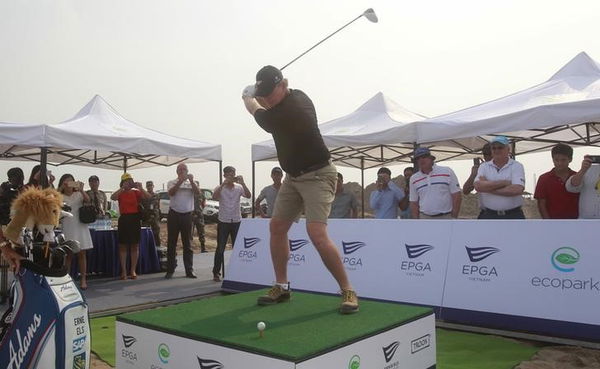 ---
---
JOHANNESBURG (Reuters) – Ernie Els is determined to put struggles with his short putting game behind him by working with a changed grip and playing golf "properly" again this year after battling with the yips. The 46-year-old four-times major champion has missed some crucial short putts over the last year and again at the South African Open this week, where he duffed one from 18 inches on his way to missing the cut. "I'm really looking forward to playing golf properly this year. I'm tired of being uncomfortable on those little puts. I want to give this cross handed method a real go," he said during a stint of television commentary on Saturday during the third round of the European Tour event at the Glendower Golf Club. Els has tried the grip, where the left hand is low, briefly before, but has struggled with the yips, a nervous condition in which athletes suddenly lose their ability to perform a certain skill. He still feels positive about his game even after describing 2015 as his worst year in golf as he plummeted to 191st in the world rankings. "I am really very comfortable in life, in general, I'm having a good time out there. Like Bobby Locke once said, he's never seen a grumpy good putter. But you see a lot of grumpy bad putters," the South African said. Els, British Open champion in 2012, said he would play in Abu Dhabi and Qatar on the European Tour this month before heading to the U.S. PGA Tour.
ADVERTISEMENT
Article continues below this ad
"Depending on the weather I'm going to start my season at Pebble Beach (Feb. 11-14) or Riviera (Feb. 18-21)," he said. "I would love to have competed at the Olympics but I'm so far down the rankings, I'd need to win a couple of Majors to get back into contention," he said of golf's return to the Games in Rio de Janeiro in August. "I think it's wonderful for our sport to be included in the Olympics and to meet the other athletes must be wonderful," he added.
(Reporting by Mark Gleeson in Cape Town; Editing by Ed Osmond; mark.gleeson@thomsonreuters.com; +27828257807; Reuters Messaging: Reuters Messaging: mark.gleeson.thomsonreuters.com@reuters.net)
ADVERTISEMENT
Article continues below this ad