Emotional Moments in Formula One
Published 01/27/2020, 11:21 AM EST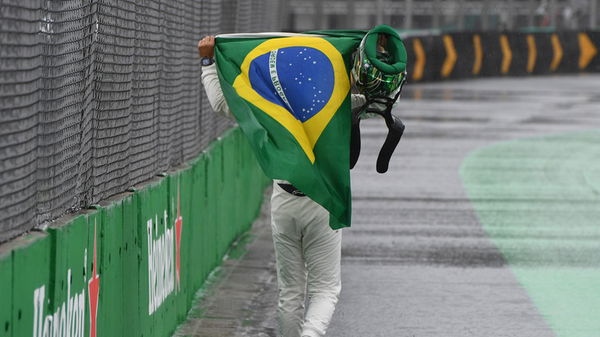 In the midst of the adrenaline rush and drama, Formula One has seen its fair share of heart-wrenching emotional moments. We list out the top 10 of them.
ADVERTISEMENT
Article continues below this ad
1. Ayrton Senna's Death
Perhaps the saddest moment in the history of Formula One was the death of the triple world champion Ayrton Senna.
ADVERTISEMENT
Article continues below this ad
On lap 7, Senna's car ran in a straight line off the track and struck an unprotected concrete barrier. The car hit the wall at a shallow angle, tearing off the right front wheel and nose cone and spinning to a halt.
Minutes after the accident, servicemen pulled a motionless Senna out of the car. Soon, in an official statement, they declared that the legendary Brazilian was no more.
Many Brazilian fans considered Senna's death to be a national tragedy. The Brazilian government declared three days of national mourning. The funeral was broadcast live on Brazilian television and an estimated three million people lined the streets of his hometown of São Paulo.
Even the FIFA World Cup-winning Brazilian team dedicated their win to Senna. It was widely accepted to be the largest recorded gathering of mourners in modern times.
An inspiration to many drivers and fans, Senna's death became a turning point in the safety of Formula One. Soon after the tragic accident, FIA implemented new safety measures and the Grand Prix Drivers' Association was re-established.
2. Anthoine Hubert's Death and the events that followed
The 2019 Belgian Grand Prix will forever be remembered for not the best of reasons. F1 returned after a long summer break and everyone's moods were good.
Charles Leclerc took pole as Ferrari showcased their strength and might after an embarrassing first half of the season. However, what happened after Qualifying is what shook the entire world for good.
In the F2 feature race, Anthoine Hubert, Juan Manuel Correa and Giuliano Alesi crash heavily and a red flag came out immediately. The crash's video soon surfaced online but the video is only for the brave-hearted to watch. Anthoine Hubert was soon declared dead while the other two were lifted for treatment.
While Alesi was discharged soon, Correa is still recovering, with heavy injuries to his leg and spine.
Hubert was a childhood friend of Leclerc. He, Leclerc, Gasly, and Ocon almost grew up together and competed on track through various events. In the morning that followed, F1 held a minute of silence as a mark of respect.
During the formation lap, Leclerc passed the corner of the accident and seemed numb. His reactions showcased how much it hurt him and how much he was missing his friend. He went on to win the race eventually, his first victory in Formula One and dedicated the victory to his friend.
The fans even gave him a standing ovation on lap 19, as Hubert raced with #19.
3. Sebastian Vettel's emotional driver's championship title 
Sebastian Vettel headed to the 2010 Abu Dhabi Grand Prix very much the underdog for the drivers' title. Alonso and his teammate Mark Webber led the way, with the German 15 points behind the leader.
However, both Alonso and Webber were hampered by traffic mid-race and were unable to find a way through. They took the chequered flag in seventh and eighth respectively.
Vettel meanwhile put in a stunning drive to snatch the championship from under their noses. It clearly meant a lot to the German who went on to win 3 more.
4. Nigel Mansell's first victory
Nigel Mansell had a slow start to his racing career since he was from a middle-class family. He used his own money to help work his way up the ranks.
He moved to the Formula Ford series after considerable success in kart racing. However, his father disapproved of the decision.
While in Formula Ford, he broke his neck in a crash. The doctors told him that he was lucky he was not paralyzed. But he discharged himself from the hospital and returned to racing.
Soon, Lotus owner Colin Chapman began to take notice of his driving skill.
During his Grand Prix debut with Lotus in Austria in 1980, a fuel leak into the cockpit gave him first and second-degree burns. But he battled through the pain and stopped only when a mechanical problem forced him into retirement.
Mansell struggled during his four-year tenure as a full-time Lotus driver. He had an unreliable car and teammate Elio de Angelis consistently outperformed him. He moved to Williams in 1985.
After five years of trying, Nigel finally scored his first win at the European Grand Prix at Brands Hatch in 1985. He performed daring overtaking maneuvers over Senna and Piquet to win.
Nigel Mansell was, thus, the personification of drama in a Formula 1 car.
5. Rubens Barrichello's first win
At the 2000 German Grand Prix, Rubens Barrichello recorded his first win. This win was special because it was in his first season for Ferrari. The win was a result of inspiration as well as a tiny piece of fortune.
He started 18th at the Hockenheimring and was put on an aggressive two-stop strategy in a bid to help him move up the field.
The race swung in his favor when a former Mercedes employee with a grudge against the company ran onto the circuit in a bid to disrupt the Mercedes-powered McLaren's races. That caused the race stewards to send out the safety car, allowing Barrichello to complete one of his pit stops without losing track position.
Barrichello then made a ballsy gamble to stay on-track on slick tires despite a late-race rain shower and took an emotional win.
6. Massa's 39-Second Title
It would be difficult even to imagine a more poignant moment. At the season-ending Brazilian Grand Prix of 2008, Felipe Massa of Ferrari needed to win the race. For that, McLaren's Lewis Hamilton had to finish 6th or worse, in order to secure the F1 World Championship.
Massa started from pole position and stuck his Ferrari across the start-finish line first. He won the race from Fernando Alonso, Kimi Räikkönen and Sebastian Vettel, with Hamilton well back in the pack behind several non-title contenders.
Felipe and the Scuderia faithful went crazy!
But as Hamilton rounded the last corner of a wet Interlagos track, Timo Glock was struggling with degrading dry tires and well off the pace. Hamilton passed for 5th and 39.09s later, Felipe's championship was no more. Last race, last lap, last corner.
On the slowing down lap, Hamilton lifted his visor and dabbed his eyes, saying on the radio "I am speechless". In parc férme, Massa lifted his own visor and put a gloved hand over his eyes. Then he clambered out, facing the crowd, tapped his heart three of four times, bowed and raised both hands with index fingers pointed up to the sky.
7. Michael Schumacher on equaling Senna's record tally
One of the most bizarre and unusual events in Michael's career came at Monza in 2000, where he equaled Ayrton Senna's tally of 41 wins.
In the post-race press conference, journalists asked him about the significance his record-tying 41st victory to the great Ayrton Senna, meant to him. Michael simply bowed his head and broke down in tears. This prompted rival Mika Hakkinen to put a reassuring arm around his shoulders.
Nobody had ever seen Michael like this before – and indeed, we've never seen such a public display of emotion from him since.
Schumacher won at Imola the same day that Ayrton was killed.
Since then he has rarely talked about the Brazilian. Usually, he professes to have no interest in statistics, but clearly the mention of Senna's name by the interviewer in the already hyped-up circumstances pushed Michael through some kind of barrier.
8. Schumacher's goodbye to Ferrari
After 11 years at Ferrari during which he won a record 5 consecutive world championship titles, Ferrari issued a press release stating that he would retire from racing at the end of the 2006 season. Schumacher confirmed his retirement.
In the season finale at Brazil,  football legend Pelé presented a trophy to Schumacher for his years of dedication to Formula One.
READ: Michael Schumacher's first and amongst the finest victory for Ferrari
He started the race in 10th position and didn't have a great start which saw him fall to 19th place, 70 seconds behind teammate and race leader Felipe Massa.
However, in an eventful race, he recovered and secured the fourth place and bid an emotional farewell to the sport only to return with Mercedes in 2010 and to again retire in 2012.
His performance in the Brazilian GP was classified in the press as "heroic", an "utterly breath-taking drive", and a "performance that … sums up his career".
9. Felipe Massa's last Brazilian Race (2016)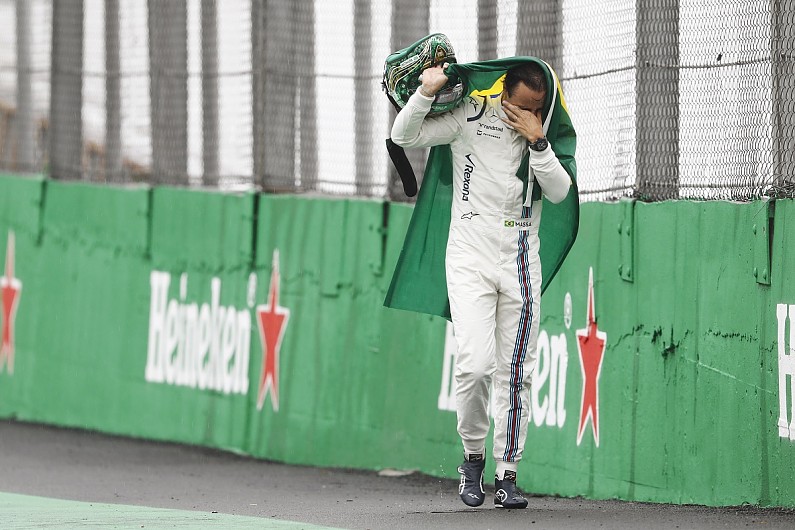 At the end of 2016, Felipe Massa announced his retirement. It was an emotional affair for the veteran Brazilian who began his journey as a reserve driver for Sauber and debuted in 2003.
The Brazilian Grand Prix, his home race has always been special for him having won it a couple of times. The 2016 edition was even more special since he was bidding adieu to the crowd that has cheered him all along.
Unfortunately, the race did not go well for him. The tricky conditions caught him out and he crashed into the barrier right next to the start-finish straight. He soon climbed out of his car, stood next to it and waved as thousands cheered on for him.
With tears in his eyes and a Brazilian flag draped around his shoulders, he trudged back to the pit lane.
However, every team's pit crew cheered for him along with the crowd, applauding the Brazilian for his contribution. His family joined him in the Williams garage and he hugged them amidst all the tears and emotions.
It was a very touching moment not only for him but for the entire F1 fraternity.
10. An emotional tribute to Jules Bianchi
Nine months after sustaining serious head injuries during the Japanese Grand Prix in the 2014 Formula One season, Jules Bianchi passed away. He collided with a recovery vehicle in wet conditions on the Suzuka track.
The promising young driver suffered a diffuse axonal injury. The accident left him in a coma and he tragically lost the battle. Bianchi raced for Marussia and was part of the Ferrari young driver academy.
Bianchi was the first driver to lose his life during a Grand Prix race weekend since Ayrton Senna in May 1994.
The F1 community paid an emotional tribute to the 25-year old by retiring car number 17 as a mark of respect to the promising young star. The drivers paid their tributes by forming a huddle around their 20 helmets on the tarmac 15 minutes before the 2015 Hungarian Grand Prix.
The sport has rarely been as saddened as it was on that day.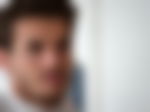 11. Michael Schumacher takes an emotional race victory
It was the fourth round of the 2003 season held at Imola, Italy. The Schumacher brothers – Michael and Ralf had locked the first two positions on the grid on Saturday's Qualifying session. Post the Qualifying session, both of them took a private jet to visit their mother in Cologne, Germany.
Elisabeth Schumacher, 55, was in a coma and suffering internal bleeding, reportedly after a fall at her home a week earlier. They soon flew back to Imola to take part in the race, Sunday morning.
ADVERTISEMENT
Article continues below this ad
Mere hours before the race, their mother had passed away. The news left the brothers pretty much doubtful for the race. To everyone's disbelief, they did take part amid the emotional trauma and both of them did very well.
Ralf snatched the lead from Michael before the first corner itself. By the first round of pitstops, Michael was back in the lead. From then on, it was no stopping Michael.
He went on to win the race while Ralf just missed out on the podium, finishing fourth.
ADVERTISEMENT
Article continues below this ad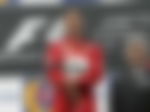 A tearful Michael took the winning trophy and no champagne flowed on the Formula One podium as a mark of respect. The brothers left the circuit immediately after the race and Jean Todt took Michael's place in the post-race conference.