Tennis' ten most Emotional Moments
Published 05/26/2016, 11:12 AM EDT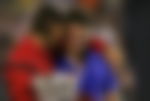 ---
---
Competitive sport is a roller coaster of emotions, especially individual sport. Players are looked up to, idolized and are expected to keep their emotions in check but sometimes it is difficult to hold back – They are human after all. Here's looking back to some of the most emotional moments on a tennis court in no particular order
ADVERTISEMENT
Article continues below this ad
10. Rafael Nadal at the US Open 2013 
This was a tough choice. The toss up was between this and rafa's triumph at the 2014 French Open but from a fan's perspective this was absolutely heartbreaking. Rafa was 2 sets up in the 3rd round against Fognini but eventually lost the match. Nadal's record was 151-0 after winning the first two sets till this happened. Just to see him walk back absolutely dejected and tired was enough to make fans tear up. It made people wonder if we had seen the last of the Mallorcan and had his injuries and other vulnerabilities finally got the better of him.
ADVERTISEMENT
Article continues below this ad
9. Shuai Zhang at the Australian Open 
https://www.youtube.com/watch?v=Ru0ONhVQjPk
It's tough being a tennis pro unless you are one of the top dogs. Opportunities are scarce and so are resources which is why many give up earlier than they want to. But here's a bit of cindrella story.  Chinese tennis player Shuai Zhang broke down in tears following her Australian Open match after finally winning a grand slam event on her 15th attempt.
Zhang, who was ranked 133rd in the world, revealed she had contemplated retiring from the game for a quieter life growing fruit and vegetables after a disastrous run. But then in a turnaround moment the 26-year-old defeated Simona Halep ending her 14-match losing streak, with her proud parents in the crowd.
Zhang looked very emotional in the post match interview taking a pause to regain her composure time and again. An emotional Zhang thanked her equally emotional team and described this as the best moment of her career.
8. Djokovic's 2012 Australian Open Triumph
Emotion doesn't always need to involve tears as made clear in this match which is one of the greatest matches in the history of the men's game. As the 5 hour, 5 set epic encounter came to end Djokovic lay flat on his back and later tearing and taking off his shirt. It clearly reflected Djokovic's will and desire to win and only one phrase can be used, to sum up that celebration – BEAST MODE
7. Federer in tears at Roland Garros
The one title that always eluded Roger was French Open. It seemed that Federer might go down as one of the greatest not to win the career slam. A certain Spaniard had established a monopoly over the tournament but in 2009 it seemed like Roger's destiny to win the tournament. It was a huge win for The Swiss over Nadal's conqueror Soderling in the final. Roger did well to hold himself back but once the national anthem of Switzerland played it became too much for him. Not a breakdown but probably just tears of joy and relief rolled down the cheeks of the great champion. It showed how long he had waited for that one particular slam and how a huge monkey was off his back now.
6. Andy Murray's Wimbledon Breakdown
We always see Tennis is an individual sport where Men and Women play for themselves (except for Davis Cup maybe) but never before has one man had such a huge burden of expectations on his shoulders to win a tournament. The Scot was aiming to become the first British player to win the Championships since Fred Perry some 75 years back but he came up against The Maestro – Federer. Andy tried visibly hard to hold back his tears during his speech and tried hiding behind that typical British Humor but it was apparent he was absolutely devastated. You could also see his then girlfriend now wife – Kim Sears also doing her best not to break down. Murray's voice kept cracking as he spoke and it was pure relief when he did win the title in 2013.
5.  Caroline Wozniacki  2009 Sony Ericsson WTA Championships
Kicking off our list is one of the most recent emotional turmoil that took place in  Doha. In fact, the whole week became a showcase of sentimental display full of tears and grimaces. Caroline Wozniacki staged one of the most difficult victories of her career at the Round Robin stage. Wozniacki started the match well and took the first set easily. Things, however, changed in the second set when Zvonareva started making a comeback with some blistering groundstrokes to level the match one set a piece.
The third set became a real test of endurance for the Dane, who started getting increasingly annoyed by the cramps in her legs. "In the third set, I just knew I really had to go for it,"  said Wozniacki. "When it was 3-1 for me in the final set, I got the cramp in my left leg. From there, it just got worse and worse. I have absolutely no idea how I  pulled it through, but I'm very happy about it." Wozniacki won the match with tears in her eyes, grimaces on her face and cramps on her legs as it seemed it was too much for one day.
4. Pete Sampras getting emotional at the Australian Open
The 1995 Australian Open Quarterfinal is widely regarded as one of the classics of Men's Tennis. Pete Sampras and Jim Courier faced off with the match in the balance after Pete Sampras had clawed his way back to two sets a piece after being two sets down. But during the fifth set, something triggered inside the head of pistol Pete leaving him in tears on court. After the end of the first game, he went back to his chair visibly disturbed and sobbing. The great champion looked vulnerable and inconsolable which is when Courier showed great sportsman spirit and asked his arch rival if 'He was okay' and that they could finish the match tomorrow if needed.
Pete refused, fought the demons inside his head and managed to win the match. It was later revealed that Tim Gullikson, who was Pete's coach, was battling cancer and Pete by his own admission said that he fell apart when he thought of how frail his coach looked in the hospital.
3. Roger crying after losing Australian Open 2009 final to Rafa
Personally, a lot of us probably haven't witnessed most of these moments live, but this is one classic that most of you must have watched. And boy oh boy was it emotional. The match itself was a rollercoaster of emotions and is rightly called one of the best matches the tournament has ever seen. But nothing prepared the fans for what happened in the ceremony. Federer is absolutely devastated and starts tearing up like his favorite candy has been snatched away from him. The Swiss Maestro is inconsolable and has to stop his speech midway to regain his composure but not before saying – '"God. It's killing me". Federer just cannot stop sobbing but then comes the most Aww worthy moment in Tennis. A moment that just defines the respect between these two great champions – Rafa after lifting the trophy puts his arm around Roger and puts his head on the Swiss Maestro's cheek and you can almost feel the crowd going – AWWWWWWWWWWW. It is a moment that still provides ample Goosebumps when you watch it.
ADVERTISEMENT
Article continues below this ad
2. Ivanisevic's last few points and celebration in winning Wimbledon 2001
Goran Ivanisevic's win at Wimbledon in 2001 has become a part of folklore and rightly so. The Croatian arrived as a wildcard who had already lost 3 finals at The All England Club. The tag of choker and demons of the previous finals were apparent when he served for the match in the fifth set. Goran made sure to use the same ball that got him an ace. There's a tear, dropping to the knees, praying, father watching uneasily, double faults – Everything you can imagine, this game had it. And when finally the summit was scaled – A plethora of emotions followed. Ivanisevic, sobbing, lies down flat on the grass and then proceeds to climb towards his team. And when he reaches there, it is some moment. The group hug is so emotional you can feel it and I bet there were a lot of tears shed in that hug. Tears of Joy and Relief this time and not tears of losing another final.
1. Agassi's retirement speech 
ADVERTISEMENT
Article continues below this ad
Andre Agassi was one of the modern greats of the game who helped revive the popularity of Tennis in the 1990's. Agassi chose to play his final slam in his native country at The US open 2006, losing to Benjamin Becker in the 3rd round. Benjamin Becker looks almost apologetic for ending the great man's career while Andre just sits back in his chair struggling to hold back his tears. He goes on to acknowledge the crowd twice who are whistling, cheering and giving a farewell to their man. The applause is all you can hear for a solid 5 minutes. Such is the outpour. While Benjamin is talking to the presenter, you can see Andre Agassi almost breaking down and doing his best to regain composure while his wife and kids watch from the stands. And as if that wasn't enough, Agassi goes on to deliver a heartfelt speech thanking everybody for the support and you can see people crying their eyes out in the crowd. A great American Hero got a great American farewell.