End of the road for Mata?
Published 10/30/2014, 6:57 AM EDT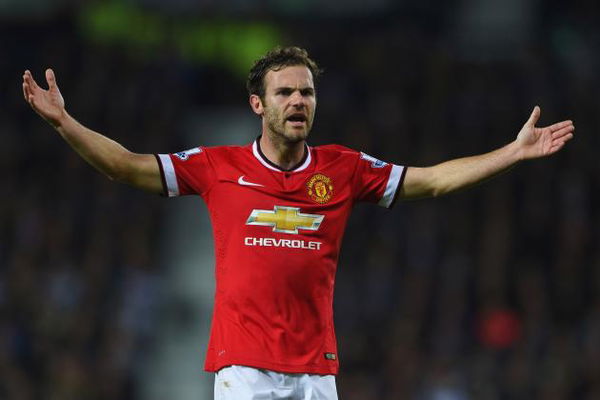 ---
---
At the stroke of halftime against Chelsea on Sunday, Manchester United got a timely free kick on the edge of the box. Di Maria took the free kick precisely, giving a  low pass to Mata who pulled away from his marker and got into a superb position before skying the shot miles over the post. That's proof enough for his woeful time recently at United isn't it?
ADVERTISEMENT
Article continues below this ad
Without any second thought, United fans would accept the fact that Mata has under performed considering the class, finesse and quality he possesses as a player. His exclusion during most occasions hasn't been because of anything but lack of convincing performance.
In January, Mata was considered to be a record signing by United from Chelsea – touching down at the Carrington training ground as a savior incarnate-but the midfielder hasn't hit the the levels he achieved at Chelsea. His record at United has been way below par till date. At the beginning of the season,with an impressive two goals in the first two matches, the future did seem bright for this lad but lately he appears to be a weak link in front of the scintillating pace of Di Maria.
ADVERTISEMENT
Article continues below this ad
When Rooney earned a three-match ban last month following a red card against West Ham United, the debate was centered on how the United captain would reclaim his starting place and whether Mata would use the three-game period to prove to Van Gaal that he, rather than Rooney, is the way forward in the No 10 role.But as his performance against Chelsea on Sunday was proof enough that he was a long shot to that. As Mata trudged off the Old Trafford pitch on Sunday, replaced by teenager James Wilson in the 67th minute, it is difficult to imagine Jose Mourinho entertaining even one pang of regret about sanctioning the sale of the popular midfielder nine months ago.
Juan Mata was the subject of a Q&A session involving Manchester United supporters on the club's official Facebook page earlier this week. The Spaniard's answer to one question conspicuously hinted at the riches, and the dilemma, that Louis van Gaal must deal with at Old Trafford.He was asked which players he would pick in a 5-a-side match and Mata's response showed his mindset. His answer was- "I don't want to be unfair on everyone else, but I would definitely pick an offensive team," Mata said. "So it would be me, Wazza (Wayne Rooney), Robin (van Persie), Radamel (Falcao) and Angel (di Maria)."
Unquestionably, those would be the top five for the Red Devils when it came down to it. Inexorably, Van Gaal has deemed it fit to only use four among the five to full use in present times.
ADVERTISEMENT
Article continues below this ad
Van Gaal's United is principally about pace. Even prior to Di Maria's arrival, Van Gaal encouraged Ashley Young in a left-wing back role to utilize the former England winger's pace.Mata, though a neat-and-tidy ball player, has never been the quickest, but this shortcoming was tempered by Rafael Benitez at Chelsea, with the former Liverpool manager directing play through the 26-year-old, who was twice voted the club's player of the season at Stamford Bridge. But this United lineup possesses more choices and a possibility of an increased number of alternative plays and with Rooney's return, Mata is most likely to lose his place. Mata has showed his willingness to play on the wings also but his lack of defensive discipline means that the manager is unlikely to give him that role.
But the major downside in his United career has been his inability to have an influence in big matches. Last season was not entirely his fault as his teammates were equally disappointing. But this season he has been surrounded by the likes of Di Maria, Ander Herrera, Daley Blind and has Luke Shaw, a much improved side. He really needs to buckle up to even seem remotely visible midst these stalwarts.
In 23 appearances for United, the former Valencia player has scored an impressive eight goals, but closer inspection of that statistic highlights the shortcomings in his contribution.The goals have come against Queens Park Rangers and Sunderland this season and against Southampton, Norwich City, Newcastle United and Aston Villa(last). They do not come much bigger than City at the Etihad Stadium this weekend and, with Rooney ready to return, Mata is the obvious man to miss out.
ADVERTISEMENT
Article continues below this ad
It will not be surprising to see Mata being sold in the transfer window in January. After all, it would be a real bummer to see a player capable of leaving behind a legacy sit on the bench. Wouldn't it?