England Look To Take Huge First Innings Lead
Published 07/29/2014, 5:34 AM EDT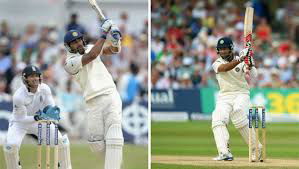 Scores at the end of Day 2: India 25 for 1 trail England 569 for 7 dec (Bell 167, Ballance 156, Cook 95, Buttler 85) by 544 runs
ADVERTISEMENT
Article continues below this ad
Before the start of the Test Match, India would have wanted Cook's disappointing form to continue. The England captain, however, gave a perfect start start to the innings. Cook hit a scratchy 95 after being dropped by Jadeja early in the innings. Ian Bell, the other senior player in this young England team who had been getting out early throughout the series, finally got some runs under his belt. He scored a confident 167 after surviving a close LBW decision when he was on 3.
A 142 run partnership between Bell and Ballance (156 runs off 288 balls) was the middle piece that England would have hoped for after a brilliant launch pad set up by Cook and Ballance.
ADVERTISEMENT
Article continues below this ad
Pankaj Singh, who was playing his debut Test match, had an unlucky day. Dropped catches, wrong decisions, close LBW calls and his habit of bowling at least one bad ball an over left him wicket-less in the first innings. The other fast bowlers, Bhuvaneshwar Kumar and Mohammed Shami, didn't bowl particularly well either.
Jadeja, the only 'true spinner' in the squad, didn't perform his job well of containing the runs at the other end. The limited abilities of Jadeja as a spinner were showcased in bold on the scorecard as he got hit for 153 runs off 45.4 overs. An economy rate of 3.35 with just 2 written under the wicket column of the lone spinner in squad highlighted the urgent requirement to get Ashwin back into the playing XI.
Jos Buttler, who was brought into the team in place of Prior, went a long way in establishing his credentials in the longest format of the game. The limited over specialist got a tailor made situation for him, as his team asked him to go and hit out. Jos Buttler accepted the offer with a bow and a smirk, hitting the ball all across the park. Slogs, cover drives and glances; he conjured all of them together to score more than a run a ball 85. As Buttler finally got out just missing his hundred, England at a score of 569 for 7 declared putting an end to India's dreadful day on field.
ADVERTISEMENT
Article continues below this ad
India still had to bat out 14 overs before the end of day's play. They would have hoped to bat out the day without losing any wickets. But things didn't go the way they planned as Dhawan nicked one behind to be caught by Cook at 6. And with him, India lost their glimmer of hope to accelerate. Broad and Andrerson's extra pace brought back life to the pitch and match, which looked dead while India was bowling. But still, Vijay and Pujara batted out the remaining overs left in the day, as India finished the day's play at 25 for 1.
At the end of Day 2, India would be hoping to save this match. As India's chances of winning look very slim.
Only two outcomes seem possible, England securing a win and levelling the series or India batting their way to a draw and thus maintaining the lead.
ADVERTISEMENT
Article continues below this ad
England would be hoping to attack at the start of Day 3, with their bowlers fresh and Indian batsmen under the pressure of huge total. If India survive the first session of Day 3, India may prevent history repeating itself and not suffer a deja vu Mumbai defeat. England, who are leading the session-by-session analysis 6-0 in this Test Match, would be confident.
India fans can only cross their fingers right now and hope that the re-enforced batting line-up can stand firm.