England must master pitch to avoid defeat- Assistant Coach
Published 10/25/2015, 3:16 PM EDT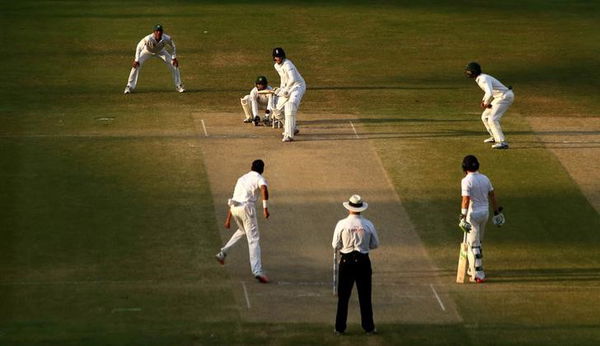 ---
---
By Matt Smith
ADVERTISEMENT
Article continues below this ad
DUBAI (Reuters) – England must adapt their batting style to Dubai's pitch and learn quickly from their first innings collapse if the tourists are to escape defeat to Pakistan on the final day of the second test, assistant coach Paul Farbrace said on Sunday.
Pakistan, playing in their adopted home of the UAE, are heavy favourites, with England still 360 behind after reaching 130 for three by the fourth day close. The first test in a three-game series was drawn last week in Abu Dhabi.
ADVERTISEMENT
Article continues below this ad
"The way runs are being scored in this game, they've not been scored from free-flowing, long drives and people really getting their hands through the ball," Farbrace told reporters.
"It is a pitch to let the ball come to you and punch it more, rather than playing the ball away from your body. That's how runs have been scored and I think that's something we've got to learn and learn quickly."
The highest total England have ever chased down successfully in the fourth innings is 332, against Australia in 1928-29, and Alastair Cook's men are in such dire straits principally because of an abject morning session on Saturday when they lost seven wickets for 36 runs.
"We've got to make sure that our batters don't make the same mistake twice," said Farbrace.
That looked probable after England stumbled to 19 for two in their second innings following the early dismissals of Cook (10) and Moeen Ali (1), but Joe Root, 59 not out, and Ian Bell, 46, put on 102 to give England hope of an unlikely escape.
ADVERTISEMENT
Article continues below this ad
"The two of them today showed if you apply yourself and you're very clear in how you're looking to play, you can survive on that pitch," said Farbrace. "We've got to come back with the attitude we can survive the day."
Bell's knock has probably saved him from the axe for the final test in Sharjah, but Moeen's opening position seems less secure. Usually a middle-order batsmen, the all-rounder has struggled as Cook's partner, averaging just 12 this series.
"For it to be a long-term thing he's obviously got to score runs, but, that's the same with anybody in any batting position," said Farbrace, adding coach Trevor Bayliss usually preferred to maintain a settled lineup rather than chopping and changing players.
ADVERTISEMENT
Article continues below this ad
Cook appeared laboured when running between the wickets, but England's backroom staff said he had no specific problem, although the skipper is nursing an earlier hand injury that prevented him from taking his usual position at slip.
(Editing by Toby Davis)