England's Tour of India Schedule Announced
Published 07/17/2016, 2:12 PM EDT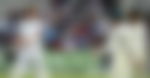 ---
---
The Board of Control for Cricket in India (BCCI) has announced the dates and venues for the upcoming home series against England that consists of five Tests, three One-Day Internationals (ODIs) and three Twenty20 Internationals (T20Is). The first of the five-Test series will kick-off in Rajkot on November 9, 2016. This series will be played immediately after New Zealand's tour of India-which starts in September and has the Men in Blue playing three Tests and five ODI's.
ADVERTISEMENT
Article continues below this ad
As had been the norm during the 2012 series between these two teams, England will play the Test matches first before returning home. They will make their way back to the subcontinent in January 2017 to complete the ODI and T20 leg of the tour.
The BCCI had previously announced six new Test venues (Indore, Rajkot, Visakhapatnam, Dharamsala, Ranchi and Pune) to be used from this calendar year (2016-17) with Indore set to host the visiting New Zealand team in October. Rajkot and Visakhapatnam now follow the trend, hosting the first two Tests against England, before the series moves on to the traditional venues in Mohali, Mumbai and Chennai.
ADVERTISEMENT
Article continues below this ad
The tourists then go home for a Christmas and New Year break before returning to India to complete the remainder of the tour.
The tour will resume with the first ODI in Pune on January 15, 2017. Cuttack and Kolkata will complete the ODI leg while Kanpur, Nagpur and Bengaluru are scheduled to host the T20Is.
Indian captain Virat Kohli welcomed the announcement and said he was looking forward to an exciting contest. "This is going to be a competitive series. Both sides like to play hard fought cricket. England is one of the better sides in the world. So we can expect some high quality cricket even though we are playing at home. I urge fans from both the countries to come and support Test cricket," Kohli said, in a video message from West Indies, which was subsequently posted by the BCCI on its twitter page.
Coach Anil Kumble, who never featured in a five-match Test series at home during his playing days, also welcomed the development. "I am happy to announce the schedule of India-England series. I have been involved in many Tests against England as a player but this is the first time that I will be involved in a 5-Test series as a coach. I am really looking forward to this contest", Kumble said.
This will be the first time since the 1986-87 series against Pakistan that India will be hosting a visiting team for five Tests in a series. India have never beaten England in a Test series since the 2008-09 home series where Sachin Tendulkar inspired a stunning 387-run chase in Chennai.
Speaking to the press after England and Wales Cricket Board (ECB) released the itinerary, Andrew Strauss, Director of England cricket, hoped that Alastair Cook's men would go on and achieve success similar to what they managed in 2012, when they famously beat India by a 2-1 margin.
"This promises to be a historic Test series, the first five-Test rubber England have played in India since 1984-85 and a great opportunity for Cook and his players to repeat the memorable Test series win we enjoyed on our last trip to India in 2012", Strauss said.
"Equally, Eoin Morgan's white-ball squad will be anticipating hard-fought and competitive encounters against high-quality opposition in both formats with the one-day series providing excellent preparation for the ICC Champions Trophy to come at home later in the summer of 2017", the former England captain added.
COMPLETE ITENERARY:
Tests:
1st Test: November 9-13, 2016 in Rajkot
2nd Test: November 17-21, 2016 in Vishakhapatnam
3rd Test: November 26-30, 2016 in Mohali
4th Test: December 8-12, 2016 in Mumbai
5th Test: December 16-20, 2016 in Chennai
ODIs
1st ODI: January 15, 2017 in Pune (D/N)
2nd ODI: January 19, 2017 in Cuttack (D/N)
3rd ODI: January 22, 2017 in Kolkata (D/N)
ADVERTISEMENT
Article continues below this ad
T20s
1st T20: January 26, 2017 in Kanpur (D/N)
2nd T20: January 29, 2017 in Nagpur (D/N)
ADVERTISEMENT
Article continues below this ad
3rd T20: February 1, 2017 in Bengaluru (D/N)