Enrique Worried by Barca's Misfiring Attack
Published 10/03/2015, 3:16 PM EDT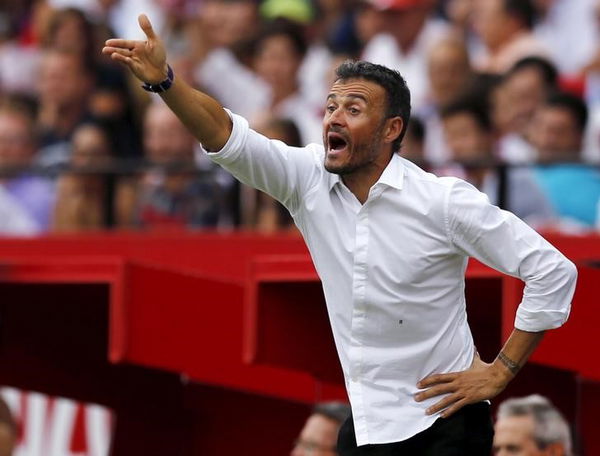 BARCELONA (Reuters) – Barcelona's misfiring forward line left coach Luis Enrique scratching his head again on Saturday as last season's treble winners went down to a 2-1 defeat at Sevilla.
ADVERTISEMENT
Article continues below this ad
The Catalan side's trident attack hit a record 122 goals as Barca won La Liga, the Spanish Cup and the Champions League but they have so far struggled to reach that level in this campaign.
Lionel Messi has missed the last two matches through injury but even before that was not at his deadly best while both Neymar and Luis Suarez have lacked sharpness.
ADVERTISEMENT
Article continues below this ad
With the goal flow slowed, Barca's defending has come under the spotlight. They were thrashed 4-1 at Celta Vigo and a second successive away defeat followed at Sevilla.
In between there was a narrow 2-1 win over newly-promoted Las Palmas and a rather fortunate 2-1 home defeat of Bundesliga side Bayer Leverkusen in the Champions League, having trailed with 10 minutes remaining.
"Normally you can expect the highest level from our players," Luis Enrique told a news conference.
"Coaches and teams look to create the most number of chances for the top players to score.
"We are not anywhere near our best at the moment but this will change I have no doubt.
ADVERTISEMENT
Article continues below this ad
"We looked for the openings but we were not able to take advantage of them when they came."
Barca have been stretched by the FIFA transfer ban that has prevented them making signings during the last two transfer windows and this along with injuries has meant they have had to rely on youth players.
"This was a game where both teams had a lot of chances and it is incredible that we have come away with just one goal," added Luis Enrique.
ADVERTISEMENT
Article continues below this ad
"There were 15 minutes in the second half though where Sevilla were on top and that has cost us. We tried everything to come back but it was not possible."
(Reporting by Tim Hanlon in Barcelona, editing by Martyn Herman)