Error Forces Treyarch to Temporarily Disable Crossplay at Black Ops Cold War Season 1 Launch
Published 12/16/2020, 9:36 AM EST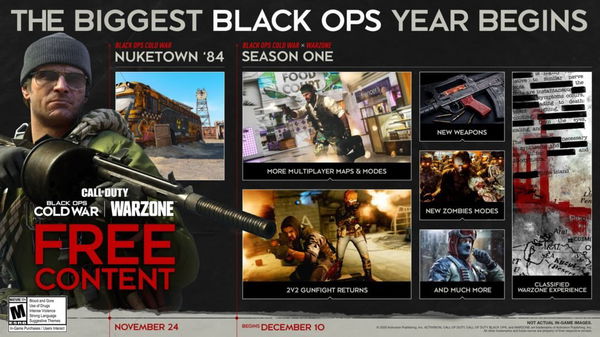 ---
---
Call of Duty Black Ops Cold War and Warzone Season 1 launches today, and it promises to pack a punch. New modes, weapons, updates for zombies, and a plethora of different additions to the battle pass make it one of the biggest updates ever.
ADVERTISEMENT
Article continues below this ad
Clearly, Treyarch is looking to make its debut season a success. However, the game is hit with a technical snag and has forced the developers to disable crossplay temporarily.
As the update went live today, players jumped to the occasion and wanted to dive into the new season ASAP. However, a lot of them were hit with an error which read 'an error occurred zed 398 swift clover'.
ADVERTISEMENT
Article continues below this ad
Matchmaking Error Forces Treyarch to disable crossplay at Black Ops Cold War Season 1 launch
A Reddit user was one of the first ones to point this out. The post discussed how the error message popped up every time players tried to queue in for matchmaking. This eventually got very frustrating and players started to express their disappointment about the same.
Unfortunately, there isn't much that anyone knows about this error, let alone how to fix it. Additionally, from what the post suggests, this error is persistent amongst PC users. Other platforms may also have faced this issue, but it isn't as stark as the one PC users are facing.
Treyarch eventually found out about this issue and addressed it on Twitter.
ADVERTISEMENT
Article continues below this ad
"We are aware of the current "Zed 398 Swift Clover" error when attempting to play Season One content on PC, and our partners at @BeenoxTeam are actively investigating. To keep lobbies healthy and full, crossplay has been temporarily disabled on PC while a fix is investigated."
Disabling crossplay was a good temporary move considering it would've disrupted matchmaking. Hopefully, there will be a hotfix rolling out soon enough to fix this.
Along with various additions to the battle pass, Season 1 also introduces a new 'Rebirth Island' map for Warzone. Warzone's Verdansk was probably getting boring, and it definitely made sense for Treyarch to throw another map into the mix. Take a look at the strategy guide to ace this map before you dive into it.
ADVERTISEMENT
Article continues below this ad
As for the 'zed 398 swift clover' error, it is only a matter of time before Treyarch fixes it.