ESPN Pundit Claims Zlatan Ibrahimovic Might not Move to Manchester United
Published 08/31/2019, 4:22 AM EDT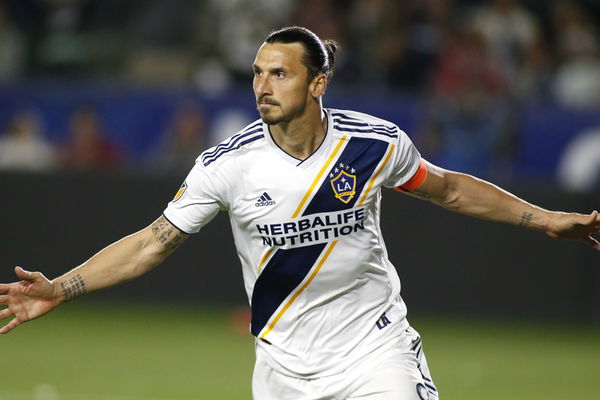 ---
---
Zlatan Ibrahimovic, with his comments last week, spurred a rumour of him rejoining Manchester United.
ADVERTISEMENT
Article continues below this ad
"I could play easy in the Premier League, so if United needs me, I'm here," Ibrahimovic told earlier.
Ibrahimovic's injury during the second season at United coincided with the arrival of Romelu Lukaku. But United have now sold Lukaku to Inter Milan, and are playing with Anthony Martial up front, who has already picked up an injury. While these factors added fuel to the transfer rumours, they actually picked up pace when United manager Ole Gunnar Solskjaer reacted to it saying he would talk to Zlatan if he is "serious" about it.
ADVERTISEMENT
Article continues below this ad
"I don't think it will happen," Solskjaer said. "I think he had his time at the club and he has had a fantastic career at the club. I wouldn't expect him to be serious when he says that."
"But he knows my number and if he is serious, I will always speak to Zlatan."
The Norwegian manager seemed skeptical of the move due the former Barcelona man's age.
"If Zlatan was 28 at his next birthday, not 38, then maybe," Solskjaer said. "So that is a big difference."
"Zlatan had a great time here and he is still doing well. It was just unfortunate that he got his injury here."
Ibrahimovic has had a great playing career so far laden with trophies. He played in most of the major European leagues before moving to America. He has won a league title with all of the teams he has played for, except in the last stint with United. He has though, scored 29 goals and laid out 10 assists during his stay in Manchester. He is also yet to win a trophy in US. That is what, according to former West Ham goalkeeper and current ESPN FC pundit Shaka Hislop, will stop the Sweden international from moving to England.
"Well if you're asking me if Zlatan is better than a lot of Manchester United's options right now, I say yes," Hislop said. "Do I think Zlatan goes back there? I say no."
"Just kind of given his age I don't think he's the right fit for Manchester United and how they've done business."
"Zlatan has also not hidden behind the fact that wherever he goes, he likes to win something.
"Now, he hasn't done that with LA Galaxy yet, I don't see him leaving until he wins silverware with LA Galaxy."
LA Galaxy are currently occupying a play-off spot in the Western Conference for the MLS Cup in October.
"So as of right now, unless something major changes in both those circumstances, that's going to continue to be a miss for me," Hislop said.
Ibrahimovic's comments also seemed to have convinced that Hislop might be right. Apart from winning league titles with Barcelona, Inter Milan, AC Milan and PSG, he has accumulated several major trophies across Europe. The 37-year old was hopeful of winning something in America.
ADVERTISEMENT
Article continues below this ad
"I did my job in Europe. I enjoyed it, I have 33 trophies that I brought with me here and hopefully I can get something here," he said. "And then we will see where that adventure finishes."
Zlatan has scored 23 goals in the ongoing MLS season so far, and is expected to be in action against Seattle on Sunday after a minor injury scare.
ADVERTISEMENT
Article continues below this ad