3D-Artist Makes MrBeast an Amazing 100 Million Subscribers Play Button
Published 06/19/2022, 10:35 AM EDT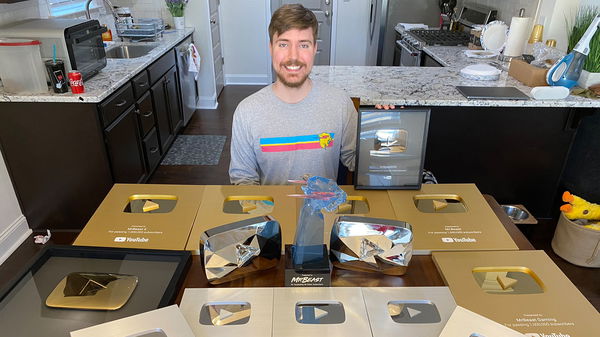 MrBeast is only a few million away from hitting a significant milestone. So a fan and a 3D artist came up with a special gift to celebrate the American YouTube star's mind-blowing achievement.
ADVERTISEMENT
Article continues below this ad
Jimmy Donaldson is undoubtedly one of the biggest content creators. He is famous for his internet alias, MrBeast, the name of his main channel, with around 97.2 million subscribers. The 24-year-old is about 3 million away from hitting 100 million subscribers on the main channel.
ADVERTISEMENT
Article continues below this ad
Hitting 100 million subscribers on YouTube isn't an effortless task. Only four channels achieved this incredible feat, including T-Series, Cocomelon, SET India, and PewdiePie. However, among these four, PewdiePie is the only individual content creator with over 100 million subscribers.
WATCH THIS STORY: Ranking the Fastest Cars in GTA Online
But MrBeast is now on the way to becoming the second individual creator with 100 million subscribers. So, Daniel Krafft, a 3D artist YouTuber came up with a custom 100 million Play Button for MrBeast, who will soon hit the 100 million subscriber mark.
How did Daniel Krafft design MrBeast 100 Million Play Button?
Krafft showcased the 100 million custom Play Button design for Donalson on Twitter. Soon it got a lot of attention from MrBeast fans, who were amazed to look at the fascinating design of the custom award.
However, many fans questioned how he came up with the design. So, Daniel Krafft himself answered this question in a video he uploaded on the same day titled, 'I Designed MrBeast's 100 Million Playbutton! (Custom).' In the video, the 3D artist gave a complete tour of the process of how he came up with the idea.
Krafft went through many references to come up with the design. The main part of the custom award is the puma, which features many-faceted triangular shapes and red rubies for the eyes. Krafft developed this concept from Donalson's logo and YouTube's traditional concept behind making a 100 million play button.
ADVERTISEMENT
Article continues below this ad
This fantastic award is still a 3D model. But Krafft will turn into a real one if MrBeast notice this model. Moreover, this 100 million button isn't the first gift from Krafft to Donalson.
In the past, this American 3D artist made another custom Play Button for MrBeast to celebrate his 50 million subscribers. Even Donalson was happy for the award, as he revealed YouTube doesn't give 50 million Play Buttons any longer.
ADVERTISEMENT
Article continues below this ad
Let's hope the American YouTube star notices this unique custom award so Krafft can bring it to reality. Are you excited to see Krafft present the real 100 million Play Button to MrBeast?