45 Items Added to Animal Crossing: New Horizons With Mario Themed Update
Published 02/26/2021, 6:18 AM EST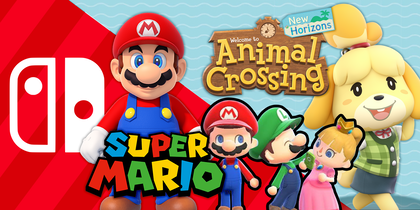 ---
---
Nintendo announced the Animal Crossing: New Horizons and Mario crossover at the first Nintendo Direct of 2021. To celebrate the 35th anniversary of its most recognized franchise in Mario, Nintendo revealed that it will add Mario-themed clothing, mushrooms, coins, blocks. Furthermore, Nintendo added Irish-themed items to celebrate the arrival of St. Patrick's Day on March 17th.
ADVERTISEMENT
Article continues below this ad
Nintendo released the collaborations of its two biggest game franchises with the 1.8.0 update. Players will receive the Mushroom Mural wallpaper for free simply by downloading the update. The update includes:
Clothes
ADVERTISEMENT
Article continues below this ad
Mario 'stache
Luigi's 'stache
Mario Hat
Luigi's Hat
Mario Outfit
Luigi Outfit
Princess Peach Crown
Mario Shoes
Princess Peach Shoes
Luigi Shoes
Princess Peach Crown
Princess Peach Dress
Furniture
? Block
1-Up Mushroom
Block
Coin
Fire Flower
Floating Block
Goal Pole
Large Mushroom Platform
Pipe
Shell
Small Mushroom Platform
Super Mushroom
Super Star
Thwomp
Wallpaper, Floors, and Rugs
Block Flooring
Lakitu's Cloud Rug
Mushroom Mural
Yoshi's Egg Rug
The warp pipes are the most anticipated items in the update. This is majorly because of their unique transportation ability. Although these items are in the game, they will not be available for purchase until March 1st. Once available, players can purchase these items from the "Promotion" tab in the Nook Shopping app.
Other Events In Animal Crossing
Along with the Mario crossover, Animal Crossing: New Horizons will celebrate the following events:
Firstly, ACNH will celebrate the Hinamatsuri Festival holiday in Japan (also known as Girl's Day) on February 25th. Furthermore, this holiday will introduce two new items, the Hinaningyo and Blossom Lantern, available till March 3rd.
Hello! Spring is coming to the northern hemisphere, and Nook Shopping has some festive decorations to celebrate Hinamatsuri on March 3rd. How do you choose between the hinaningyo and the blossom lantern? You don't! They're both so cute and available now on alternating days. pic.twitter.com/JYtXYx81HY

— Isabelle (@animalcrossing) February 25, 2021
ADVERTISEMENT
Article continues below this ad
Secondly, Pi Day will be celebrated in-game with a special Pi Day Pie furniture item. Pi Day is an annual celebration that occurs on March 14th as it is the date where '3/14' lines up with the mathematical value of Pi beginning with 3.14. These items will be available from 1st-14th March.
Finally, Nintendo will honor Shamrock Day from March 10th to 17th. The celebration will bring seasonal items for the event such as the Shamrock Rug, Shamrock Doorplate, and Shamrock Soda. In addition, players can obtain themed clothing including Shamrock Hat, Shamrock Shoes, Shamrock Suit, and Shamrock Sunglasses available for purchase at the Able Sisters shop.
ADVERTISEMENT
Article continues below this ad