Adorable Couple Melts the Animal Crossing: New Horizons Community With a Lovely Wedding Plan
Published 08/28/2022, 6:06 AM EDT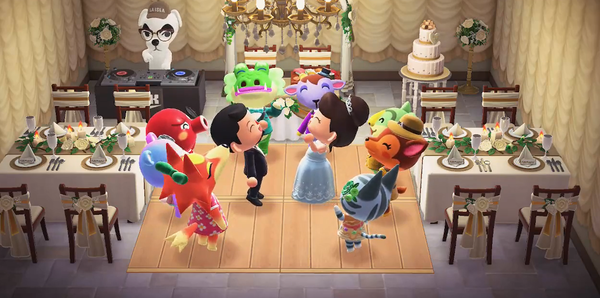 Animal Crossing: New Horizons is one of the most popular titles in the Animal Crossing series. Furthermore, it has created an enormous impact on the community with the release of the 2.0 update. Over the years, players' love for ACNH has escalated.
Not to mention, several users interact with their in-game villagers on a regular basis. Nintendo lets players have almost 10 residents on their island. Interestingly, one Reddit user and their partner, recently shared how they included ACNH villagers at their wedding.
ADVERTISEMENT
Article continues below this ad
Reddit user impresses Animal Crossing: New Horizons fans by including villagers on their special day
Villagers are one of the most iconic features of the Animal Crossing series. Furthermore, it has been a part of the series for a very long time and several users enjoy spending time with their adorable villagers. Nintendo has introduced many adorable NPCs in New Horizons with different personality traits to attract most players' interest.
Since villagers have become an important part of users' regular life, it's natural they want to include them in some of their real-life events as well. Although villagers in New Horizons celebrate several in-game events with players, it's impossible for them to attend real-life events.
Interestingly, a couple celebrated their wedding with their villagers in the game. According to the duo, "Our wedding is coming up, and we didn't want our villagers to feel left out!" In the clip, we can notice the duo enjoying the company of their villagers and dancing around together. Moreover, the couple was dressed in their wedding outfit and their avatar looked absolutely adorable in the clip.
In addition to that, we can also notice K.K. Slider working as a DJ, which excited tons of fans. Naturally, several New Horizons were impressed by the couple's love for ACNH and villagers. Therefore, many fans also applauded them for their creative idea to celebrate their special day with in-game characters.
ADVERTISEMENT
Article continues below this ad
One comment said, " This is so wholesome!! 🥺🥺 Congratulations to both of you, may your love last forever!! ❤️❤️." Whereas, another fan suggested that the duo should hire K.K. Slider as a DJ on their wedding day. The comment read, "You should totally make your IRL wedding DJ cosplay as KK.."
ADVERTISEMENT
Article continues below this ad
Last but not the least, another fan said, "THIS IS THE CUTEST THING EVER AWW CONGRATULATIONS!!!🥺🥺💕💕💕." What are your thoughts on the couple's adorable wedding plan to include villagers? Let us know in the comments down below.
WATCH THIS STORY: Ranking The Highest Selling Nintendo Games of All Time