After Surpassing Shroud and xQc, Can Ludwig Break Ninja's Active Subs Record?
Published 04/07/2021, 12:15 PM EDT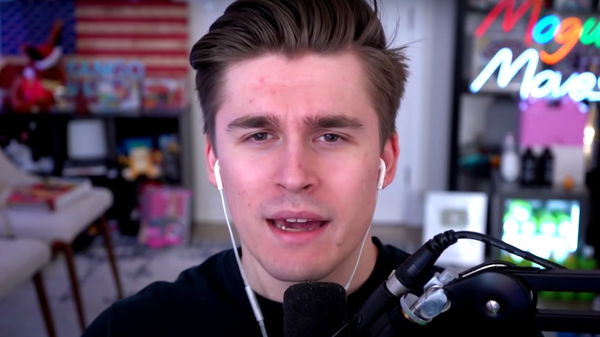 ---
---
After reaching several milestones, Ludwig, at this point, is challenging Ninja's record for the most subscribers on Twitch. Nearly 550 hours later, his stream has still not come to a close. While the world continues watching Ludwig, is there a real chance that he'll break Ninja's record?
ADVERTISEMENT
Article continues below this ad
Ludwig started the subathon a few weeks back. The plan was simple; the streamer would add 10 seconds for every subscription he gets.
Ludwig is now eyeing something bigger. He holds the record of the most active subs on Twitch, but now, he looks to overtake Ninja's record of all-time subscribers. Ninja set this record back in 2018 with a total of 269,000 subscribers, while Ludwig currently sits a little over 201,000 subscribers.
ADVERTISEMENT
Article continues below this ad
During the course of his journey, Ludwig has surpassed the records of some big names such as xQc and Shroud who were previously the most subscribed streamers. With him closing in on Ninja, the chances for Ludwig to finish what he started seem higher than ever.
Will MrBeast show up to help Ludwig?
The streamer does need a lot more subscribers to beat Ninja's records. The fans have been waiting for some miracle or the other, and perhaps MrBeast could fill in that void. The YouTuber has been teasing it for several days now, and Ludwig himself could not help but make a funny remark on that topic.
ADVERTISEMENT
Article continues below this ad
"Brothers and sisters. Let's bow our heads as we praise for MrBeast to gift 70,000 subs so that we can beat Ninja's record tonight so that I can schamaz you all because at that point, it won't be about the subathon. It'll be about the fucking money that I'd get for that record," Ludwig said.
MrBeast is a very popular name, and he's famous for his giveaways. The YouTuber has pulled off some great feats over the years, and it wouldn't be surprising if he gifts a large number of subs.
Fans are left with no choice but to wait and see what happens. As of now, the stream still has a couple more minutes left to end the subathon.
ADVERTISEMENT
Article continues below this ad
Do you think Ninja's record will be broken? Share your thoughts in the comments. `
Trending Stories