"Almost One Million Dollar" – Two-Time World Champion Jarno Opmeer On 'Cheating Allegations' in F1 eSports
Published 03/18/2023, 1:30 PM EDT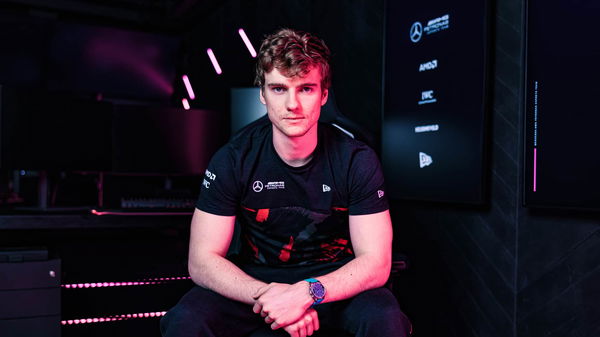 The F1 Esports scene has gotten very competitive in recent years. Many might not know, but Formula One also hosts official Esports Grand Prixes every year. So every official F1 Team owns an Esports team to compete in those virtual Grand Prixes.
But as F1 Esports is growing drastically, so is cheating in this scene. There are a lot of allegations of cheating in F1 Esports. Jarno Opmeer recently shared his views on this growing problem. For those who don't know about this 22-year-old, Opmeer is a two-time F1 Esports champion. He currently drives for the Mercedes-AMG Petronas Esports Team, with whom he won his latest title in 2021.
Jarno Opmeer confirms cheating in F1 Esports is a problem
ADVERTISEMENT
Article continues below this ad
Jimmy Broadbent, an F1 Esports content creator, recently interviewed Jarno Opmeer. The YouTuber questioned the Mercedes Esports driver if cheating is a problem in the professional competitive scene. Opmeer confirmed the question, saying, "Yes, I mean even if there is no one cheating, then there is going to be a risk of it in the future, of course."
The 22-year-old further revealed that the F1 games don't have an anti-cheat. As a result, using cheats in games is not difficult. Opmeer further explained why many drivers would risk cheating with "almost one million dollar prize money on the line."
Opmeer hopes Electronic Arts, the developers of F1 video games, to develop excellent anti-cheat software to fight cheating in this Esports.
The Mercedes Esports driver gives his take on Alvaro Carreton's cheat drama
Alvaro Carreton is a professional Esports driver and a famous F1 streamer. He was recently caught using cheats during one of his latest streams. However, he later clarified that he doesn't use any kinds of hacks and was simply testing some cheats for EA to help develop anti-cheat software. Opmeer also confirmed that many eSports drivers knew about him testing cheats for the developers.
ADVERTISEMENT
Article continues below this ad
He also explained why Carreton had to do it, "I think EA wanted a good driver to test it (cheats), of course. Because it's very hard to find the top driver that is not doing some kind of Esports, of course. I think a lot of drivers and teams just didn't want their teams and drivers to be involved in testing something like that for that exact reason."
ADVERTISEMENT
Article continues below this ad
WATCH THIS STORY: Top 10 Best Racing Games of All Time
What is your suggestion to eliminate cheating from the F1 Esports scene? Let us know in the comments below.