Amidst Insane Hype, NBA 2K21 Demo Leaves Players Disappointed
Published 08/24/2020, 1:21 PM EDT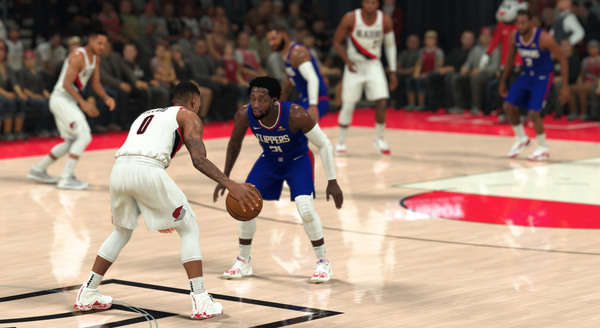 ---
---
The wait is over as the NBA 2K21 current-gen Demo is finally out. Unfortunately, it looks like 2K's highly anticipated title will fall short on expectations, big time.
ADVERTISEMENT
Article continues below this ad
PlayStation users were left frustrated even before trying the game out. They were forced to wait close to an hour beyond the given time for the demo to drop on PS4. Xbox users, though, did not face this issue.
Moreover, the size of the demo is also quite significant at 31GB.
ADVERTISEMENT
Article continues below this ad
Check out the trailer below if you missed it the first time around.
No big changes in NBA 2K21?
Despite the studio promising a major revamp in it, the game does not have enough changes that can be pointed out.
The MyPlayer Builds feature is similar to what the franchise had last year on NBA 2K20. A new default face might be the biggest change in terms of builds this year. Sadly, there are also no new hairstyles in the game. On the plus side, there are 4 extra pie charts for each position.
2K has reworked some badges, but most remain the same. Design is identical too, except for some tuning that went into some badges.
ADVERTISEMENT
Article continues below this ad
The animations you see in 2K21 are, once again, the same as from 2K20. Most of the dribbles that popular streamers tried out are identical to those from the previous title.
Aiming the shot is one of the major aspects where you see a change. And you also get notified if you get the timing right, which is pretty great. Finishing is also different, but there are no major changes in the animations.
2K has limited the demo to 5 games per user. So there is still a lot more we do not know, which can only be a silver lining. Hopefully, the demo will turn out to be deceptive and we'll see some major changes once the game drops.
ADVERTISEMENT
Article continues below this ad
We already know that the next-gen variant of the game will differ significantly from this one.
NBA 2K21 will release on PC, Xbox One, PS4, Stadia and also for the next-gen consoles once they launch. Until then, go ahead, download the demo and give it a go.