Animal Crossing: New Horizons- The Weirdest Piece of Furniture From the Game is Now a Reality
Published 08/17/2021, 10:42 AM EDT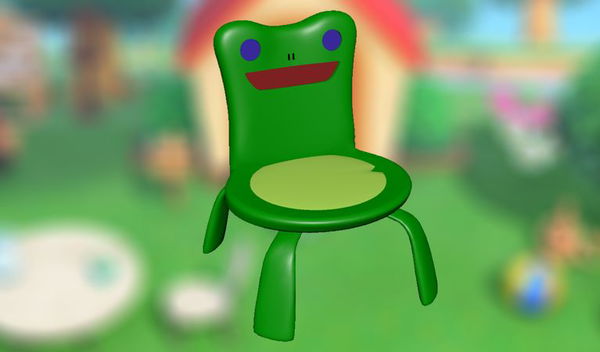 ---
---
While Nintendo might have left the froggy chair out of the latest installment in the Animal Crossing franchise, one cannot deny that this remains an eternal fan favorite! However, for some reason, real-life Froggy Chairs are still not widely accessible for purchase.
ADVERTISEMENT
Article continues below this ad
A Reddit user recreated the classic froggy chair from Animal Crossing in realistic HD. The froggy chair, a basic green chair with a frog face on its back, is a beloved furniture item from the franchise's history that has yet to appear in Animal Crossing: New Horizons.
Does the Froggy Chair exist for real?
ADVERTISEMENT
Article continues below this ad
Reddit user Pr0ksee created a high-quality HD picture of the froggy chair. The chair appears so lifelike that it's easy to mistake it for a real-life image. The level of detail on this HD model really depicts how a froggy chair would seem in real life. In a remark, Pr0ksee disclosed that the chair was created using Blender cycles.
While somewhere deep within the realms of the internet, there might be someone selling a DIY Froggy Chair. However, we can assure you it won't be as stunning as Pr0ksee's 3D model. The possibility of a 3D model being printed is theoretically possible, since this model was created in Blender.
WATCH THIS STORY – BEST ANIMAL CROSSING: NEW HORIZONS MODS THAT A PC VERSION COULDVE HAD
But a thing worth noting is that the printed version would most likely lack the shiny plastic appearance of the model. Perhaps someone in the future can pull this off!
The fate of furnitures in Animal Crossing
ADVERTISEMENT
Article continues below this ad
Animal Crossing: New Horizon has often been criticized for its lack of themed- furniture within its content. The game has stopped receiving major content updates from Nintendo, although Nintendo claims that more free content will be released in the future.
While figures like Brewster remain eagerly anticipated, the absence of different furnishings means that fans' decorating options are relatively restricted. The lack of furniture is just one part of the lack of content within the game.
ADVERTISEMENT
Article continues below this ad
As of now, we don't know whether Froggy Chair will make its return in the game. But hey, at least the fans are trying to keep the memory of this eternally favorite object alive!
Trending Stories