Animal Crossing New Horizons: Everything Included in the 1.9.0 Update
Published 03/20/2021, 6:51 AM EDT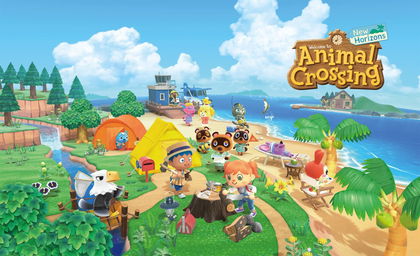 ---
---
On March 18, 2020, Nintendo released the Animal Crossing patch version 1.9.0. The update brings an easier-themed event, Sanrio characters, and celebrates the game's one-year anniversary. Upon logging in, players will receive a cake baked by Nook Inc. as a reward for downloading the update.
ADVERTISEMENT
Article continues below this ad
Furthermore, the update will celebrate 12 million Custom Designs uploaded to the Custom Design Portal in the game's first year. The update will bring 50 additional custom design slots to both the Normal and Pro Custom Design modes.
Adding to this, "the Custom Design app on your NookPhone is getting an upgrade."
ADVERTISEMENT
Article continues below this ad
Players can use 2000 Nook Miles at the Nook Store to unlock the 'Custom Design Pro Editor+'. As per Nintendo, "It'll provide a more robust set of features, allowing for the customization of umbrellas, small flags, uchiwa and photo stands."
Last month's Mario crossover gave us a chance to see our favorite characters from the franchise in new Horizons. Following that, this month we have a Sanrio crossover. According to Nintendo's blog post,
"Starting March 26, the Animal Crossing Sanrio Collaboration Pack will be available for purchase at Target stores across the U.S. at a suggested retail price of $5.99. You'll be able to use these six vibrantly designed amiibo cards to invite cute and colourful Animal Crossing residents inspired by popular Sanrio characters to your island, including Rita, Chai and Toby."
[Announcement]The latest #AnimalCrossing: New Horizons update is available now! Download the update and make the most out of all the Custom Designs additions, plus new seasonal items, and compatibility with the upcoming Animal Crossing Sanrio Collaboration Pack amiibo cards. pic.twitter.com/R7cS4YZqEZ

— Isabelle (@animalcrossing) March 18, 2021
List of items added with Animal Crossing x Sanrio crossover
Cinnamoroll items – unlocked by scanning Chai's Amiibo Card
Cinnamoroll Floor
Cinnamoroll Hat
Cinnamoroll Jacket
Cinnamoroll Parasol
Cinnamoroll Rug
Cinnamoroll Shoes
Cinnamoroll Sign
Cinnamoroll Sofa
Cinnamoroll Stool
Cinnamoroll Table
Cinnamoroll Tray
Cinnamoroll Wall
Hello Kitty items – unlocked by scanning Rilla's Amiibo Card
Hello Kitty Bed
Hello Kitty Chair
Hello Kitty Clock
Hello Kitty Drawers
Hello Kitty Dress
Hello Kitty Floor
Hello Kitty Hat
Hello Kitty Outfit
Hello Kitty Planter
Hello Kitty Rug
Hello Kitty Shoes
Hello Kitty Table
Hello Kitty Wall
Keroppi items – unlocked by scanning Toby's Amiibo Card
Gray Patterned Floor
Green Boots
Green Gingham Shorts
Kerokerokeroppi Cake
Kerokerokeroppi Doll
Kerokerokeroppi Pins
Kerokerokeroppi Rug
Kerokerokeroppi Screen
Kerokerokeroppi Top
Kerokerokeroppi Tray
Kerokerokeroppi Wall
Shoji Bench
Stone Lantern
Suspenders Shirt
Tranquil Bridge
Little Twin Stars items – unlocked by scanning Étoile's Amiibo Card
Cloud-making Machine
Kiki and Lala Bed
Kiki and Lala Clock
Kiki and Lala Dress
Kiki and Lala Floor
Kiki and Lala Rug
Kiki and Lala Outfit
Kiki and Lala Pin
Kiki and Lala Shoes
Kiki and Lala Socks
Kiki and Lala Sofa
Kiki and Lala Table
Kiki and Lala Wall
Kiki and Lala Wand
My Melody items – unlocked by scanning Chelsea's Amiibo Card
My Melody Bed
My Melody Chair
My Melody Clock
My Melody Dresser
My Melody Dress
My Melody Floor
My Melody Hat
My Melody Outfit
My Melody Rug
My Melody Shoes
My Melody Table
My Melody Wall
Pompompurin items – unlocked by scanning Marty's Amiibo Card
Pompompurin Bed
Pompompurin Chair
Pompompurin Dress
Pompompurin Floor
Pompompurin Hat
Pompompurin Outfit
Pompompurin Pudding
Pompompurin Rack
Pompompurin Rug
Pompompurin Table
Pompompurin TV
Pompompurin Wall
The update also makes it so that you can now add the Custom Design Portal found in the Able Sisters store directly to your in-game NookPhone app. This can be purchased at Resident Services for 300 Nook Miles. As a result, players will be able to import custom designs from other islanders without having to go to the Able Sisters.
ADVERTISEMENT
Article continues below this ad
Seasonal items added
Nintendo has also introduced seasonal items in this update, Firstly, a variety of colors of a whoopee cushion can be ordered between March 26 and April 1 to celebrate April Fool's Day. Lastly, to celebrate the prom season, Able Sisters will stock some fashionable clothing throughout April.
Have you played patch 1.9.0 yet? What is your favorite item and character added during this update? Let us know in the comments down below.
ADVERTISEMENT
Article continues below this ad