Animal Crossing: New Horizons: Everything You Need to Know About August's Fireworks Event
Published 08/11/2021, 1:53 PM EDT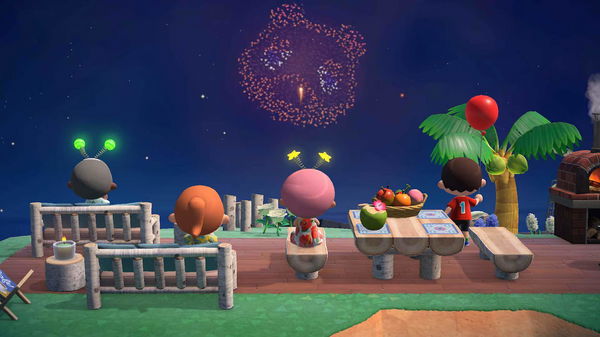 ---
---
2Every year in August, Animal Crossing: New Horizons celebrates the Fireworks festival. As the name suggests, this event is filled with colorful lights and celebrations. In addition to this,  you can earn exclusive items from a raffle, design custom firework patterns and obtain themed items from Isabelle.
ADVERTISEMENT
Article continues below this ad
The main attraction of the festival every year is the weekly fireworks show. You can catch the fireworks show every Sunday in the month of August from 7 PM onwards. Players from both hemispheres will celebrate this event simultaneously unlike other seasonal updates. Thus this year the fireworks show will take place on the following days:
August 1st, 2021
August 8th, 2021
August 15th, 2021
August 22nd, 2021
August 29th, 2021
ADVERTISEMENT
Article continues below this ad
During the day of the fireworks show, you can visit Isabelle in the Resident Services facility to design custom firework patterns. These patterns will be featured in the show later on in the day in the order in which you have designed them. There are up to ten custom designs from which you can choose. Once you have done this, you can setup a lawn chair and enjoy the show.
Watch this story: Worst Video Game Movie Adaptations
ADVERTISEMENT
Article continues below this ad
How to enjoy Animal Crossing: New Horizons Fireworks Festival
Red, the Fox resident of Animal Crossing makes an appearance during the fireworks event as the host of a raffle. The raffle contains a total of 24 items each corresponding to a different ticket number. This fox is known to steal artwork and sell it to players thus you can be sure to find some coveted prizes on the raffle list. The list of items currently available via the raffle includes:
 Red sparkler
2 – Blue sparkler
3 – Fountain fireworks
4 – Bubble blower
5 – Uchiwa fan
6 – Pinwheel
7 – Tweet
8 – Blue balloon
9 – Red balloon
10 – Yellow balloon
11 – Green balloon
12 – Pink balloon
13- Ramune-Soda Frozen Treat
14- Orange Frozen Treat
15- Chocolate Frozen Treat
16- Plain Cotton Candy
17- Melon Cotton Candy
18- Ramune-Soda Cotton Candy
19- Strawberry Cotton Candy
20- Boba Milk Tea
21- Boba Coffee
22- Boba Strawberry Tea
23- Boba Mango Tea
24- Boba Green Tea
ADVERTISEMENT
Article continues below this ad
In order to participate in the raffle, you will have to purchase a ticket from Redd at the Prize booth. Each ticket costs 500 bells and there is no limit on the number of tickets that you can purchase. How do you plan to enjoy the Fireworks festival? Let us know in the comments down below. Trending Stories