Animal Crossing: New Horizons: Guide to Catch All 80 Bugs Available in the Game
Published 05/10/2021, 10:00 AM EDT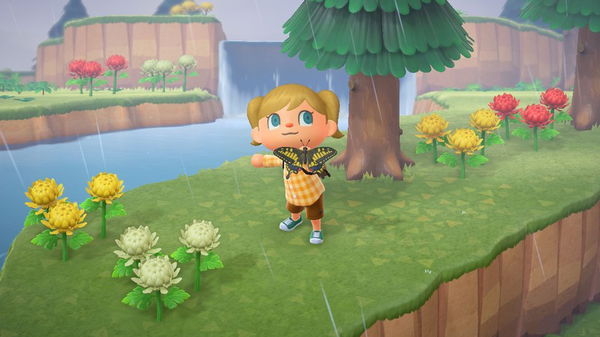 ---
---
Animal Crossing: New Horizons is the fifth installment in Nintendo's life-simulator series. Aside from allowing players to customize their worlds completely, there are also tons of fun activities to take part in. These include crafting, hunting, and fishing, among others.
ADVERTISEMENT
Article continues below this ad
Players can hunt bugs and add them to their museum collections. Furthermore, you can find various bugs at different periods of time based on the changing seasons. New Horizons allows players to catch up to 80 varieties of bugs. This is an increase from the 72 available in New Leaf.
How to catch all the bugs in Animal Crossing: New Horizons
ADVERTISEMENT
Article continues below this ad
In his recent video, YouTuber, Lord Respawn showcased how players can catch every bug in the game. From September to June, players in the Northern Hemisphere will be able to catch multiple varieties of the butterfly such as the yellow tiger, and common butterfly. In addition to this, the peacock butterfly flies near hybrid flowers.
Other variants of the butterfly such as the Monarch butterfly will also be available during this time period. Earlier in the year, players can catch the Agrias butterfly and Great Purple emperor. The paper kite butterfly is available all year round in both hemispheres.
The moth species received a new addition in New Horizons in the form of the Madagascan Sunset Moth. This moth flies around from April-September alongside Raja Brooke's Birdwing. Ground dwelling insects like cricket, grasshopper, and locust are also available during the time periods shown below.
ADVERTISEMENT
Article continues below this ad
Where to find Mantis, Beetles, and other bugs
Mantis will sit on flowers between March-November in the Northern Hemisphere. Similarly, its variant, the orchard mantis, sits on white flowers. Wasps can be found all year round and fall down from trees when they are shaken. Additionally, variations of the cicada, like the brown, robust, and walker, sit on trees during summer.
While the Tiger beetle is found on the ground, in order to obtain other variations, you will have to look elsewhere. For instance, the Jewel Beetle is found on trees and the Dung Beetle near snowballs. Players can also collect various stag beetles. The golden stag sits on palm trees and is the most lucrative beetle to catch as it sells for 12,000 bells.
ADVERTISEMENT
Article continues below this ad
Lastly, smaller and more common bugs like the ant, hermit crab, and bagworm are available all year round. Be sure to complete your collection of 80 bugs as the seasons change. How many bugs do you currently have in your Animal Crossing collection? Let us know in the comments down below. Trending Stories