Animal Crossing New Horizons: How to Bring Isabelle to Your Island
Published 08/09/2021, 9:57 AM EDT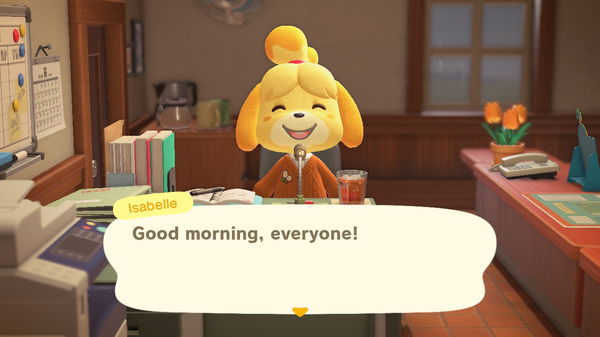 ---
---
Interacting with villagers is a major part of what has made the Animal Crossing franchise so successful. While there are a ton of fan favorites, none of them are as iconic as Isabelle in the Animal Crossing world. Taking the form of a yellow Shih-Tzu, Isabelle will help with providing residential services once you have brought her to your island, similar to the role she played in New Leaf. This is one of the first characters that you will unlock in Animal Crossing: New Horizons and will help you get familiar with the game's mechanics.
ADVERTISEMENT
Article continues below this ad
In order to bring Isabelle to your island, you will first have to visit the Residential Services where you will find Tom Nook. Nook will ask for your help to move three new residents to the island. This task will first require you to build a bride and get used to the crafting mechanics of New Horizons.
Watch this story: Video Game Franchises returning to consoles
ADVERTISEMENT
Article continues below this ad
Tasks to Unlock Isabelle on Animal Crossing: New Horizons
For the construction of a bridge, you will have to acquire 4 pieces of clay, stone, and log stakes each. Once you have finally built the bridge, Tom will ask you to help him setup homes for the incoming villagers and hand you three housing kits. Each housing kit will require you to collect a different set of materials in order for its construction to begin. Throughout this process, you will learn how to build some of the essential Animal Crossing items, including a handy ladder. If done properly, the next time you visit Tom Nook, he will reward you with a fence.
Now that the homes are all built, you will have to visit other players' islands in order to speak to and lure villagers to your island. This service is available at the Nook Stop machine for the price of 2000 Nook Miles. Tom Nook will then host a ceremony to announce the arrival of the three new villagers on the island of Waiata.
ADVERTISEMENT
Article continues below this ad
What will Isabelle do on your Island?
Following the arrival of the third resident, Tom Nook will also announce the return of Isabelle to the Resident Services. In addition to this, your Resident Services Facility will be upgraded from a tent to a permanent building. Note that the entire process becomes quite slow due to the time it takes to construct the resident houses and for them to formally move in.
If you wish to speak with Isabelle, you will have to sit on the chair right next to her in the Resident Services building. As part of these services, Isabelle will take control of the daily broadcasts. These announcements will alert you to any events happening on that day, such as weather updates, new residents and other new projects.
ADVERTISEMENT
Article continues below this ad
Overall, Isabelle is a character you will require on your island before you decide to make any other upgrades. Did this article help you acquire Isabelle on Animal Crossing: New Horizons? Let us know in the comments down below. Trending Stories