Apex Legends: Latest Trailer Deep Dives Into the New Arena Mode
Published 04/27/2021, 11:08 AM EDT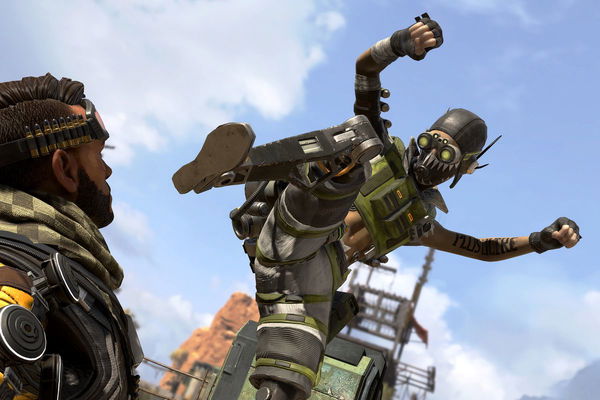 ---
---
Respawn Entertainment has finally rolled out a detailed trailer for the new permanent event. EA's Battle Royale game, Apex Legends, will see the first non- BR mode that will offer fresh content with Season 9. The new Arena mode will take the route of tactical shooters, as it will offer up close and personal combat. For weeks this new mode was being teased, and the studio even offered an in-game teaser with a secret quest.
ADVERTISEMENT
Article continues below this ad
The studio hid the quest inside LTM War Games, which directed players towards firing range. Players will need to find all the secret holograms and then insert the code on the inactive console in the firing range to experience the teaser.
ADVERTISEMENT
Article continues below this ad
Apex Legends latest trailer reveals more details
The latest trailer for the Arena mode shed light on things to come. Gamers will find themselves in a smaller arena that will feature 2 squads locked in a deathmatch. Teams will spawn in the designated area, and they can purchase weapons with crafting material resources. This also applies to items, abilities, and upgrades for any weapon that your character holds.
The fights will go on, right until one team gets wiped from the map. This will award the winning squad one point, and the team would need to gain 3 victories with a margin of 2 to win the mode. You can be still revived after getting knocked out, however, this mode will not offer respawns.
In case the rounds get tied at 4 each, then a 9th round shall be played. This round will be sudden death, and whoever secures victory will go on to become the champion squad. You can find supply bins, crafting materials, and similar resources that were available in Battle Royale mode.
ADVERTISEMENT
Article continues below this ad
video source: Apex LegendsYT
ADVERTISEMENT
Article continues below this ad
The catalog of maps in this mode will all showcase a unique personality. Each map will be set within the realm of Apex Games, with the only difference being in the size. These maps are tailor-made for Arena mode as they offer up-close-and-personal encounters. Gamers will find many areas that will offer new landscapes, while some will be set in the Battle Royale maps that already exist in the game.
Trending Stories